---
History: Aggression Toward Housemate Cat

I had a very difficult situation with two male cats and I was not promised that it could be completely resolved. Thanks to the team's expertise and constant attention to detail, there as been, with the help of medication, 100% success. I am extremely grateful!

You've been so excellent in suggesting things and other options when I've felt overwhelmed because something or other wasn't working smoothly. You've always made me feel that it was solvable, and that too kept in my mind Dr. Tripp's telling me that he had a big bag of tricks and if one didn't work then another might. That's helped me to keep going and to pull it together and try harder quite a few times. And, early on, when Dr. Tripp asked me if I would be open to rehoming Dickens, it was awful. But then once I really thought it over, I knew that although I would be willing to do it if I could be assured Dickens would have a happier life, I also wanted to first give a good try at making this home situation work for everyone. …and as Dickens sits beside me and threatens to drop his drools onto my keyboard, I am just very happy and grateful to you, Dr. Tripp and Krista for making this possible.

Sandra Brucks

---
History: Canine Aggression

What skills did you find MOST Valuable? getting nick to respect all family members, stop being aggressive, staying off the bed to help with aggressiveness and "go to mat" worked wonders!

What techniques did you find difficult to follow? they were all very well explained. if they were difficult it was only in carrying them out, but they worked and were always for the best.

What tools or techniques did you find particularly useful? "food puzzles" worked wonders. the "go to mat" command was a life saver. and of course, sit/stay.

What parts of your program did you NOT like? well, there were some difficult ones, like "the invisible dog" but I KNOW we had to do that. It was worth it. Nick is much better for it.

What parts of your program would you change? nothing. it was excellent.

Do you have any comments or quotes to pass along to others? At first I was scared to do this. I thought, they will never see Nick, how could this possibly help? Well, they were in contact with me more than anybody that would have seen Nick and they always were very concerned, they cared, and never let you feel like you couldn't do it. It worked wonders for Nick and his aggression. When nothing else worked, ABN was the last thing we tried and it was worth every second. Now we can give Nick the happy and healthy life he deserves.
Thank you guys sooo sooo sooo incredibly much. This has given us the chance to give Nick a happy, healthy life. We would do anything for him, and you guys have done everything for all of us. we are so greatful! Please let me know of anything further I can do or need to do, etc. Thank you so much Tara! This means the world to us. Nick says he loves you guys!!! :)
---
History: Aggression Toward Animals

Thank you for all of your help. This has been a great experience, for me, my whole household. Kristen has been SUPER helpful, knowledgeable and patient. I would not hesitate to recommend your services in the future.

Cindy Taylor
---
History: Canine Inappropriate Elimination

Just a note to let you know that Daisy is doing great with the housetraining. Not one accident in one month! You guys are the best.

Jamee Brennan
---
History: Unpredictable aggression toward pe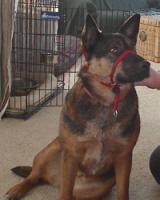 ople
...I am so grateful to you, Dr. Tripp and Claudia for all your work with me and Aggy. I rather expect if we had not taken this path, Aggy would have been put down because of her aggression. You have taught me I will always have to be vigilant with her around others, but I think I can now open her world a little wider for both of us to enjoy.

Thank you again.

---
History: Aggression toward people
...Animal Behavior Network focused on training me so that I could train Amanda. Terriers are a wonderful breed, but very headstrong. We wanted Amanda to be fun to be around but under control when needed and at the same time not lose any of her wonderful personality. We now have a very happy, confident dog...I feel confident that I will be able to handle any situation that may arise, thanks to your training.

Chyral Miller
History: Separation Anxiety
From Mitzi Moser/Reggie after Dr. Tripp did the On-site Training


What did you like the most about the trainer?
He liked Reggie! He showed tremendous compassion & understanding for our poor handling of Reggie in the past. We've gotten a little sensitive to criticism about our love for Reggie. It's very refreshing to have "Reggie friendly" help. I wasn't expressing myself correctly to Reggie – it wasn't his fault. Most people don't like Reggie because of us. We have focus and a plan of action to make thinks better – We are very grateful!

What did you like least about the trainer?


Don and I don't have anything but total gratitude for Dr. Tripp for coming out to support us and Reggie. I can't express how much difference it has made to us both to know that we have support out there, and that an expert thinks Reggie is a great dog too! We just needed some help loving him like dogs need to be loved. It's very different from children. We think we understand the dog language a little better now and can make Reggie happy without making us crazy. We love him and want him happy too. Dr. Tripp gave us that gift!