Need Help?
Call 1-800-372-3706
to speak to a Veterinary Behavior Technician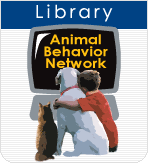 Help is at your fingertips by library, email and phone!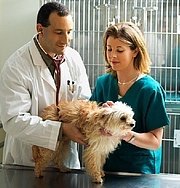 Thank you for visiting.
Come back soon!
Welcome to Dr. Rolan Tripp's Behavior Practice!
---
People are talking about the Network!
Veterinary Practice Network Member

Comments
A letter from a client
of
Veterinary Member
Dr. Sally Foote
Clyde's Trip to the Hospital
Clyde is my 8 year old Westie who absolutely loves to go visit Dr. Foote's office in Tuscola. They have always rewarded him with positive attention and of course COOKIES! Even with all his experiences at the office, which consisted of blood tests, X-rays, boarding, shots, body cavity examinations, he still loves to go inside her office even if we are just walking past. Stubborn as he is, Clyde will come to a complete stop and I practically have to drag him past the office so we can finish our walk.
Well anyway, he became very ill this past summer and I had to take him to the University of Illinois Small Animal Hospital in Champaign, IL. When the student at the hospital took us into the examination room to look him over, she was really impressed how cooperative and friendly he acted. Meanwhile the whole time I'm watching Clyde stare at her pocket, throwing his head trying really hard to let her know that he wanted a cookie. He was absolutely positive that she had some cookies in her pocket and didn't understand why he wasn't getting one. It was quite funny because Anne the student had absolutely no clue that he was "stalking her pocket" or why he was so excited about getting examined. She would reach in her pocket for something and Clyde would perk right up because he just knew she was going to give him one. But poor Clyde.... he got NOTHING!
------------
Your recommendations of Daisy's behavior problems have been outstanding. Many of them have made significant positive changes.
Our Humane Society in Indianapolis has gone to a new procedure for those who want to bring a pet to the Humane Society. They will only accept the pet if they go through basic change behavior classes at the Humane Society. I think that if they had your service and recommendations, there would be fewer pets being given to the Humane Society.
Daisy came from this Humane Society. They offer training. However, your service is much more extensive and since I subscribe to your library this is like learning different ways of training by just going to my computer.
Thank you for your service.
PS I have another dog (6 years old) who has benefited from your recommendations!
---
Dear Tara,
Thank you for helping us provide this valuable addition to our practice. Our clients seem to appreciate the service as much as we enjoy sharing ABN with them. It truly bonds them to our practice.
I share the info on ABN with my colleagues whenever I can.
Lauren Keating, DVM
President
Virginia Veterinary Medical Association

---
Thanks for the follow-up! Everyone we have signed up so far has been delighted! I still haven't had time to go through the whole site, but I love what I have seen!

---
From: Ashley Davis
Thanks Tara. Everything is going great. Clients value the enrollment of the ABN. They praise it all the time, especially on how they have no problems with it; easy to use and gives excellent information about their new pets or misbehaving pets. Thank you so much again for all your help. We really appreciate how you get back to us so quickly. Have a Good week. Talk to you soon.
---
From: Kristen White
(Animal Behavior Technican for ABN)
Date: Thu, Jul 28, 2011 at 12:12 PM
Subject: Update to ADVM on Dickins & Valentino Brucks
To: "Linda Iburg, DVM" (Referring veterinarian)
Sandra with Dickins & Valentino have done well with their behavior modification program. Once a client is ready to discontinue monthly support from Animal Behavior Network we send an exit interview. She reported that both Dr. Tripp and her behavior technician exceeded her expectations. Here are a few of Sandra's responses:
"I had a very difficult situation with two male cats and I was not promised that it could be completely resolved. Thanks to the team's expertise and constant attention to detail, there as been, with the help of medication, 100% success. I am extremely grateful!"
"You've been so excellent in suggesting things and other options when I've felt overwhelmed because something or other wasn't working smoothly. You've always made me feel that it was solvable, and that too kept in my mind Dr. Tripp's telling me that he had a big bag of tricks and if one didn't work then another might. That's helped me to keep going and to pull it together and try harder quite a few times. And, early on, when Dr. Tripp asked me if I would be open to rehoming Dickens, it was awful. But then once I really thought it over, I knew that although I would be willing to do it if I could be assured Dickens would have a happier life, I also wanted to first give a good try at making this home situation work for everyone. …and as Dickens sits beside me and threatens to drop his drools onto my keyboard, I am just very happy and grateful to you, Dr. Tripp and Krista for making this possible."

Below is a copy of our case notes for you to add to your records. Thank you for referring this case to Dr. Rolan Tripp and Animal Behavior Network and we hope you will consider Dr. Tripp's behavior practice in the future with difficult behavior cases.
Serving People and Pets,
Kristen
ABN is proud of our 100% Client Satisfaction Rate