Pet Parenting Canine Products
---
Helpful Tools to Encourage Good Behavior
Affililate profits deliver behavior education to foster orgaznizations and shelters.

Click on image which will take you to Amazon to purchase product

Premier Gentle Leader Dog Training Collar
Even small children can walk large dogs using this gentle control.
1. Design gives added control of your dog
2. Natural instincts make dog think he is training himself. Proper introduction is important to dog accepting something new.
3. FREE 40 minute training DVD included

Premier Easy Walk Dog Harness


Easy-Walk Harness stops pulling instantly without dog resistance.

Designed to gently discourage your dog from pulling while walking on a leash. Harness is simple and easy to fit, and easy to use, too. Unlike traditional collars, the Gentle Leader Easy Walk Harness never causes coughing, gagging, or choking because the chest strap rests low across the breastbone, not on the delicate tracheal area. Traditional harnesses can actually encourage dogs to pull harder because of the opposition reflex. That's the reflex that makes sled dogs do what they do.

Always ask your pet's trusted veterinarian, first, if they carry these products because they can demonstrate proper use. If your veterinarian does not supply behavior products, click on images for easy, online shopping.
Freeze Dried Liver Treats
1. Real meat dog treats ideal for quick rewards
2. Freeze-dried to retain aroma, flavor, and nutrition
3. High in protein and highly palatable


Break apart to give very small pieces. Other treats from the grocery store: regular and Honey Nut Cheerios, hot dogs, Farmer John's liverwurst, brie cheese, Cheese Whiz
Phermomones

Clinical studies show specific canine pheromones help reduce anxiety. Results improve when part of a comprehensive behavior modification program using gentle, proven methods. Spray can be used on the resting area or inside kennel. Collars can be used anytime needed and diffusers cover an entire room. Click below to choose the option you are interested in.


1. Destructive behavior in 86% of dogs
2. Excessive barking and whimpering in 70% of dogs
3. Reduces house soiling in 67% of dogs

Redirect your dog's hyperactivity and need for mental stimulation into Positive Chew Training combined with teaching Contented Confinement inside a kennel or when close tethered Need help? Call 1-800-372-3706 Ext. 89 to set up an appointment!
Food Puzzles / Foraging Devices
Dogopolis KongTime
An automatic dog-toy dispenser with 4 large Kong toys
Difficult to find, but if you can they are AWESOME!!!
Releases pre-filled toy at intermittent times.
Great for separation anxiety or bored pets.
Use with puncture-resistant, natural rubber dog toys of appropriate size.
Classic KONG Dog Toys for Extreme Chewers
Perfect for the power chewer and for training.
Stuff with peanut butter, canned dog food (then freeze) or kibble combined with treats for added interest and reward. Use kongs to help teach "contented confinement."
Everlasting Treat Ball


Dog treat ball is made of soft, yet durable, puncture-resistant materials and offers hours of interactive chewing fun Holds up to the toughest chewers with unique wobbly design that rolls erratically Add your own dog treats in the middle and sandwich them in with everlasting treats on one end or both.



Pill Pockets - The no fuss way to give medications!!!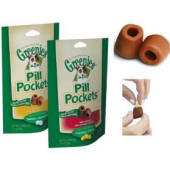 A proven solution to your pill-giving problem. These nutritious treats contain a built-in pocket, perfect for hiding a pill or supplement. Plus, dogs love the taste so much that they won't even notice there's medicine inside! Pill Pockets treats come in convenient sizes to match your pill size. Large fits most capsules and small fits most tablets. Available in Chicken, beef, and peanut butter flavors.
Hypoallergenic option available

Greenies 36 oz Value Size, 60 Count
Dental treats shaped like bones.
A great rawhide alternative!
Heavier than regular rawhide

No harmful chemicals or bleaching

Nutritious and filled with flavor

Perfect for the power chewer.
Nina Ottosson Puzzle Toys

SUPERVISE chewing until you are sure your dog will not swallow large pieces.
Premier Clik Stik Training Tool


Click your way to a well-behaved dog with the Clik Stik, the all-in-one clicker and retractable target stick.

Agility and obedience training often requires your dog to focus on a particular location or object. Touch/target sticks are a wonderful tool for teaching targeting, send-aways and go-outs, contacts and weave poles, heeling and more.

Targeting is also helpful as a way to get your misbehaving or fearful dog focus on something else (the target).


Dremmel Pet Nail Groomer - PediPaws is the version Seen on TV - but this is our recommendation


Revolutionary nail trimmer for any pet. It quickly trims, rounds and smooths nails with none of the potential discomfort of traditional nail clippers. A precision emery filing wheel gently removes thin layers of nail. The protective cap we feel is a chance to get a nail caught and it limits the size of pet you use it on. We recommend you place a towel under your pet's foot to catch the grinding dust. As with introducing any new object take baby steps and desensitize your pet to the noise and feel to prevent scaring your pet.