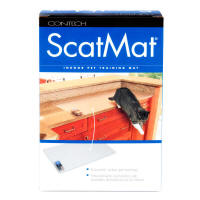 Contech Scat Mat
Automatic Indoor Cat Training Mat
Help your cat learn good house manners by keeping them off furniture or counters, or out of selected rooms. Scat Mat emits a mild, harmless static pulse when your cat touches it. Cats soon learn which parts of your home they should avoid. To watch a product demo, click on the video camera at bottom left of product image.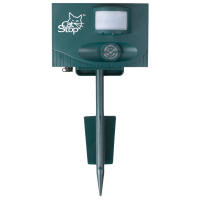 CatStop Automatic Outdoor Cat Deterrent
Encourages cats or other wildlife to leave your yard! This can be extremely useful if you have a cat that sprays inside the house to mark their territory when they see a cat outside. It is also useful if you have a cat with redirected aggression toward a housemate cat. This aggression can occur when a cat is aggravated that it can not get to something it sees outside.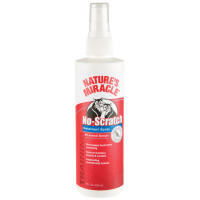 Nature's Miracle No-Scratch Deterrent Spray
This deterrent spray discourages your cat from destructively scratching things in your home. The spray is a great training tool and is safe for use around children.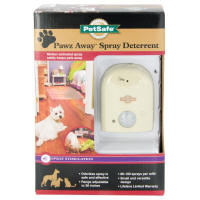 PetSafe Pawz Away Spray Deterrent
PetSafe Pawz Away Spray Deterrent monitors for movement up to 3 feet away. When your pet is detected, the unit sends a quick, safe spray that startles your pet. Your pet quickly learns to avoid areas that are off-limits.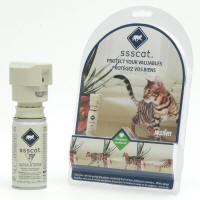 Ssscat Automated Cat Deterrent
SSSCAT is an automated spray conditioning system using Multivet's spray technology and a motion detector to protect indoor areas and objects from cats within a radius of one meter.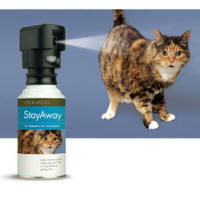 StayAway Automatic Pet Deterrent (Aerosol)
Quickly, effectively and humanely helps teach your pet what they should stay away from. A motion sensor activates a warning sound and a brief, harmless spray of air. Once your pet learns to recognize the warning sound, you can switch to sound only mode. Each can holds over 200 sprays. Requires 4 AAA batteries (not included). Aerosols can only be shipped domestically using ground service.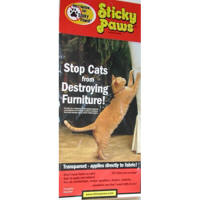 Sticky Paws XL (9" x 12") 5 strips
Clear acrylic adhesive strips apply easily to countertops, drapes, furniture, stereo speakers, and anyplace you DON'T want cats to be (cats hate the sticky feeling on their paws)! Non-toxic water-soluble adhesive wont harm cats or furniture and wont leave a stain or sticky residue when removed!