Need Help?
Call 1-800-372-3706
to speak to a Veterinary Behavior Technician
Help is at your fingertips by library, email and phone!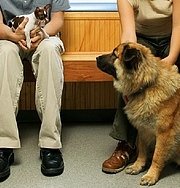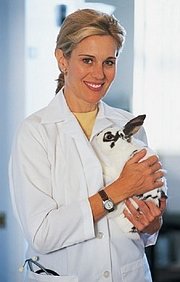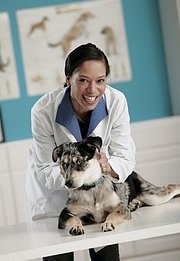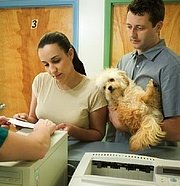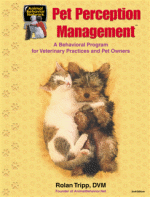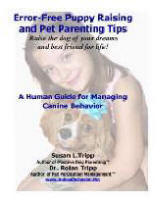 Thank you for visiting.
Come back soon!
What people say about Dr. Tripp's Lectures and Manual
---
People are talking!

We are proud to share what people are saying about how AnimalBehavior.Net (ABN) Behavior Courses, on-line education, behavior services and Dr. Tripp's lectures are improving relationships between people and pets!

---
On behalf of the KVMA, I want to thank you for taking the time to participate on the 2006 Mid-America Veterinary Conference program. All of the evaluation forms of your session attendees rated you excellent in quality of presentation, relevance to practice and met expectations. You were listed many times as the best part of the convention.
One person wrote "Rolan Tripp combines a realistic approach to behavior concerns with an entertaining delivery in lecture." Another comment was "He helps us save many lives and function better through his limitless knowledge of behavior and his excitement in sharing what he knows. The most valuable information for all practitioners!"
Louise Cook
Executive Director
KVMA
---
I first saw Dr. Tripp in 1999 at the Ohio Midwest Veterinary Conference. What he taught me has had such a positive impact for me personally and my community. I have been a practicing pet behavior counselor since 1999 and the benefit to our practice and our community in general has been wonderful. Because of what I learned from Dr. Tripp, I began also writing a monthly article on pet behavior issues which - according to the feedback from readers is greatly appreciated and helpful. I'd like to think that I am improving my community one dog at a time. I can't thank Dr. Tripp enough for the knowledge that he passes on as it is immeasurably important, useful, and helpful.
KVMA Technician Evaluation Comment, October 8, 2006
---
I saw Dr. Tripp speak at the 1999 Ohio Midwest Veterinary Conference and he changed the way I practice. At that time we had a Rottweiler puppy that was already growling on the exam table on his first visit. I began the gentling techniques that I learned from Dr. Tripp and that Rottweiler puppy is now a perfect gentleman. I can take adult dogs that have been through these exercises and then lay down and relax on their sides while I trim all their nails. I tell all puppy owners on that first visit that the second visit is going to include demonstrations and information to help them raise their puppy to have good manners.
Dr. Clough, Banfield, The Pet Hospital, Oklahoma (Banfield Education Symposium October 10, 2006)
---
SUBJECT : PVMA

COMMENTS : I just wanted to thank you again for the behavior seminar in Hershey PA this past weekend. I am a Veterinary Technician and wanted to say Dr Tripp has been the most enthusiastic speaker I have ever heard on behavior. I have already tried many techniques I learned at the seminar on our clients. It's just really nice to know there is still hope for behavior cases....And after your seminar I feel even more motivated to help her and everyone else that I can. I look forward to learning as much as I can and wanted to thank you again.

Pamela Angelovich, CV
Lehighton, PA
---
Dear Dr. Tripp and Susan:

It was great to finally meet you and I just wanted to say again thanks for speaking at our meeting .Your topic and presence was well accepted. heard nothing but excellent reviews on your presentation. People are asking for your back, so maybe we can talk some day about just having a behavior meeting for the Doctors and the staff a the same time. I think it might go over good. I know my two associates who were at the meeting are already putting your ideas to work and they were delighted when I told them I ordered the program. Thanks again and we will keep in tough about future meetings.

Sincerely,
Dr. David Calderwood

The "Third Wave" - a kinder, gentler veterinary practice and "Behavior Center" by Dr. Rolan and Susan Tripp

Subject: PVMA, Third Wave
I
t was evident to me while attending your lectures in Hershey that you possess a great enthusiasm and energy for your subject. Your communications skills are remarkable. I looked around as we came up on the end of each hour and noted that the audience was, as I was, still rapt in attention. No one was looking at their watch. I didn't see anyone fall asleep (unheard of in an audience that size!) And I wonder if you noticed that at each succeeding lecture the size of the audience grew. The two technicians from our practice who were in attendance were also energized and shared my own very positive impressions.

Dr. Michael R. Haas, AVH Veterinary Group, PA, September 8, 2005.

Pet Perception Management™ Manual
I stayed up nights reading it until I'd read it cover to cover. I think it is absolutely fantastic. We're starting puppy parties next week. The book has proved to be wonderful and very useful"
Laura Fairchild, DVM
---
"Your manual is the best value of any behavior book I have purchased. I use it almost daily."
Karen E. Wylie, DVM Georgia VMA, CE Committee
---
"The information was well organized, and covered all the elements I plan to use in offering my clients a veterinary behavior program."
Victor Perger, DVM Spokane Washington
---
"Your manual has been an endless resource for both behavioral problems and for establishing a puppy socialization class. Thank you. "
Steven Ringold, DVM, San Diego, CA
---
Date: Tue, 6 Dec 2005 18:53:16 -0800
COMMENTS : I recently attended Dr. Tripp's seminar at the ISVMA in November, unfortunately, I could not purchase his book and was wondering if there was a way I could purchase the "Socialization and Behavior" book? I found his lecture truly fascinating and a real eye opener and would love to have one of his books.

Thank you for your time.
Sincerely,
Maybelle Barton

ABN is proud of our 100% Client Satisfaction Rate