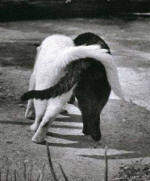 Your
Mission this month -
should you choose to accept
- is to learn
how to provide or host a puppy party.
Can you imagine anything more fun?


Start with puppies

younger than

12 weeks of age

until you have experience, then offer to puppies up to 4 1/2 months old

.

Puppy parties are typically one hour long with about 20 minutes of puppy place, pass the puppy gentling exercises, a demonstrations such as how to teach sit using a food lure, and about 15 minutes of questions and answers.
Host the puppy party during a lunch hour or after hours. Use baby gates and exercise pens as needed to create a play area that is at least 12 feet by 10 feet. Have a spray bottle of clean up solution, paper towels, and treats available.
For early puppy DayCare, use any room or large run to allow young puppies to socialize and learn important early lessons on how to "talk dog." Puppy teeth rarely do any damage. If one puppy is a "bully" (continues to solicit play or hump a puppy that does not welcome the contact) do NOT scold. Simply provide a minute "time out." The time out wiill help the puppy settle down and learn that play stops when it gets too rough.
Watch the puppies body language during play - pointing out play bows, tail position, role playing - top versus bottom dog, fear and confidence.
For pass the puppy, get out treats, have everyone sit on the floor and take a turn providing gentle handling with treats. (This can be done by your team or with the pet parents.)

Advertise these parties as fun for participation or simply to watch. Watch how this service becomes a reason for people to visit your location. Puppies learn to LOVE visiting your location!

Questions? Need Help? Call or Email me today!
---