Sunny's Story
by Susan Tripp
---
A few years ago, I was sitting in church, four pews from the front, when - you won't believe this when you read it - an orange kitten appeared under my feet. Evidently, this kitten, about four months old at the time, had walked in the open door to the Sanctuary and through the pews ending up where my husband, Rolan, and I were sitting. Of course, I believe there are Angels involved who somehow know that any pet that wonders into a pet lover's life will be in good hands.


Sunny, the
religious kitten
I immediately scooped up that kitten into my lap and for the next 45 minutes that kitten was lifted as I stood to sing Hymns and sat in my lap for all the other parts of the service not unnoticed by the rest of the Congregation. After the service, I expressed to people who approached with interest what a special kitten this was to tolerate being held that long. This kitten was social, pliable, gentle and sweet in nature. I took a list of people interested in adopting the kitten. Then Rolan and I went home, took digital photos, made flyers and I walked the neighborhoods around the church looking for a home that was grieving a lost kitten. I faxed the flyer to local veterinary practices and pet stores and placed a photo ad in our local paper and waited one week for a response.

Susan Tripp's Favorite Product for Teaching Positive Cat Scratching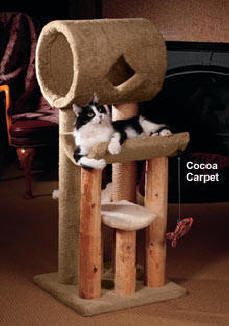 During that week, our orange kitty lived in our bathroom. We had two other cats and two dogs at the time. In the bathroom was a litter box on one side, food and water on the other and the Foster and Smith Treehouse that belonged to our older cats in the middle. The kitten was happy as a lark with the set up. I spent hours each day in the bathroom enjoying my boarder.
At the end of the week, the kitten AND the Treehouse went to live with lovely Eleanor, an elderly church lady who had one cat but recently had lost a second one. We set the kitten up in her bathroom with the Treehouse so that she could give the kitten the security of a small room and a familiar Treehouse as she gradually introduced the kitten to the rest of the house and the other cat.
Well, years later, she still brings me pictures of "Sunny" who grew to be a long, lanky cat with a very sunny personality that completely stole her heart as he did mine. The story ends in happily ever after. And, at three years old, the Treehouse is still his favorite place to hang out and scratch!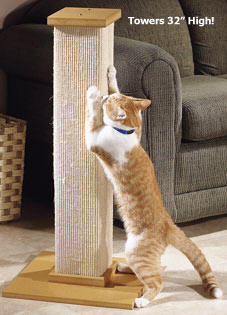 Dogs bark, fish swim and cat's scratch! So, it is normal feline behavior for your kitten to scratch the arm of your couch and climb your curtains.
It isn't fair to punish a normal behavior. Instead teach your cat where he or she can scratch to groom nails, get a good stretch, and leave a satisfying scent mark on something valuable in the home.

I recommend posts that are 30 - 32 inches high so a kitten can grow into a cat and still get a good stretch!

I have purchased all of my cat trees from Foster's and Smith. When James and Tristan were kittens (13 years ago) I started them with a floor to ceiling model (then $99). They were feral kittens brought to our Animal Hospital for weaning that I adopted on Christmas 1993. They were three months old at that time and our "cat client" who was a continual source of cat and kitten rescues wanted them adopted out together as indoor cats.

For the first few months, we kept Tristen and James confined to our bedroom to allow them gradual acclimation to a new, larger home and enriched life. The climbing trees allowed them exercise and high places to rest that kept them off our bed which helped my "sneeze" factor. The first month, they were confined at night to a kitty playpen so we could sleep.