Your
Mission
this month -
should you choose to accept
- is to learn the basics of a successful doggie daycare program.
Offer a program or refer to a good one that allow comfy pet camps with supervised social play.
Puppy daycare for pups under 4 months of age works very well with a few puppies together in a dog run to play, with times alone in kennels and out to go potty. Doggie Daycare spaces can be created using fencing outdoors and baby gates indoors.
Puppies between 9 to 12 weeks of age usually mix well. Clients LOVE daycare because they pick up happy, tired puppies after long days at work.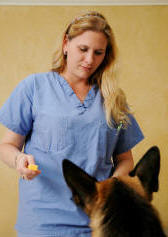 Your team can practice off-leash puppy training and supervising puppy parties with puppies in daycare. It is better for puppies to have
play needs met and not to develop bad habits when home alone.


Questions? Need Help? Call or Email me today!

Serving pets, people and professionals!

1-800-372-3706
www.AnimalBehavior.Net

Behavior Support by Email