Becoming the "The Cookie Place!"
Your Mission this week - should you choose to accept - is to transform your location into, "The Cookie Place!"
1. Ask clients to bring pets in hungry - that means skipping the meal prior to the visit. Also ask clients to bring in a ziplock baggie of the pet's favorite food treat (ideally one that the pet only gets at your location.)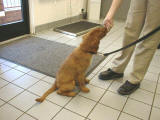 IMPORTANT: Very small, young breeds with a tendency to low blood sugar such as an 8 week old Chihuahua should be fasted no more than 3 - 4 hours.
2. Make sure there is a supply of treats handy in many locations to allow your team and volunteers to greet all pets with a treat in their hands! Encourage ALL team members to keep treats in their pockets using ziplock baggies to keep treats fresh.

3. Stock a variety - at least 3 types of treats - from low to high appeal to evaluate the pet's stress. For example, if the pet does not take a piece of kibble, offer freeze dried liver. If the pet will not take a high appeal treat, then consider the pet is too stressed to eat.
Examples of Low to High Value Treats
- baby food on tongue depressors (cats)
- canned Cheez-Whiz on exam table (cats and dogs)
- freeze-dried liver (cats and dogs)
- honey-nut cheerios (dogs)
- Hills, Butler or commercial jerky treats (dogs)

4. Remind your team to use body language to lower threat - not to face pets directly but to turn to the side, and offer an outstretched hand for the pet to approach.

IMPORTANT: Give VERY small (cheerio size) treats.
5. Use treats as distractions from injections and minor treatments and to demonstrate to pet parents how lure pets with treats into a sit position, releasing the treat as the reward.

Q: Why use "cookies" and "distractions" to prevent pet fears?

A: When pets develop fears or veterinary phobias, clients are less likely to bring them in for veterinary care or give them all recommended care. Fearful pets put veterinary teams at risk for animal bites.

---