__ 1) Instruct pet parents to bring in all pets HUNGRY to help the pet perceive your location as the "Cookie Place" not a dungeon of horrors.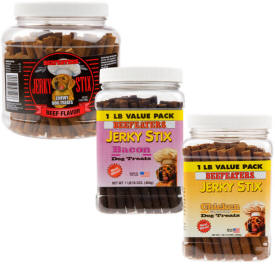 Ideally, fast the pet for 24 hours if no medical conditions make this inappropriate. At a minimum, skip the meal prior to the visit.
__ 2) Ask the pet parent to bring in a zip lock bag filled with pet's favorite treats to distract the pet from any injection or other procedure (e.g. ear clean, blood draw, nail trim, etc).
Food treats help the pet form a positive impression of your location. (Click on image above for easy online ordering.)
__ 3) On the phone, ask pet parents to bring in the pet's fecal sample, "just in case the DVM needs it."
Explain that bringing in a sample prevents the negative experience of a fecal sample collection. Collect in a freezer type ziplock baggie. Add a drop of moisture and keep in the refrigerator overnight.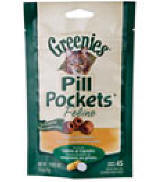 __ 4) Show (teach) the pet parent to give small treats - the size of a raisin or Cheerio. Bring in the pet's favorite toys. Interactive play is a great way to lower pet stress and create a positive association with your location.

__ 5) Use food and toys to put the pet's mind on something positive during injections.
Add comfort - pheromones

__ Instruct clients to spray Feliway (cats) or put on DAP collar (dogs) prior to putting the pet in the kennel for the veterinary visit.
Feliway and DAP are natural pheromones that have a calming affect. Recommend pet parents "kennel train" pets and take car rides that result in a positive experience. Use treats in kennels. Skip the meal prior to a car ride and feed immediately upon return.
Emotional pain relief

__ Use the kindest (smallest) needle possible. Less painful = 25ga. More speed = 22ga.
__ Use "Distraction Techniques" to help prevent a negative pet experience.Try the following methods. Change the method for each injection or minor treatment.
Put food treats on the exam table. Try a line of Cheez Whiz.

Slip and slide the pet toward the edge of the table - give the injection and slide the pet back to the table center.

Spin the pet on the table.

Use a hug/squeeze done by your assistant or the pet parent,

Use a towel over the head (hooding).

Pull a string to engage a kitten or cat.

Put Farmer John's liverwurst ( or peanut butter) on a tongue depressor.
TIP: For puppies that are anxious....
__ 1) Hold next to your body and talk to the pet parent about preventive health or behavior, allowing the puppy to relax.
__ 2) Hold the puppy tightly against your hip but completely relax your body tone, take a deep breath and let out a sigh. When the puppy begins to relax, you relax your hold, slowly and progressively.
Physical pain relief
One of the goals of a pet centered practice is to protect pets from fearful or painful experiences in the veterinary hospital. A pet-centered practice offers pet parents the option of sedation to lower both physical and emotional pain associated with minor medical treatments.
Much like human dentists now offer medicines to help patients relax, the veterinary professional understands the pet parent's sensitivity to a pet's discomfort. The pet parent will hesitate to bring in a pet who shows fear.
If not able to distract the pet, and injections or minor treatments are obviously causing Emotional Pain, then STOP. Explain the goal to avoid ANY bad experiences. Consider offering these options:
__1) "Happy Gas." For cats or small dogs up to 15 lbs, i.e. small enough to fit into the anesthetic chamber. This is very safe, and can usually be done while the owner waits. The pet falls asleep and remembers nothing.
"__ 2) "Happy Juice" For dogs over 15 lbs. This can be reversed while the owner waits in some cases, OR the pet may stay for the day. If not reversed the owner should be aware the dog will be sleepy for 24 hours (which may be desirable). The pet has to have a physical, with no scleral icterus or cardiac disease. The protocol is to give Xylazine SQ at approximately 0.75cc/20 lbs, plus an equal amt. of Atropine in the same syringe, with a "kind needle" and a distraction technique.
Become the "Puppy Place!"
__ 1) Enroll every puppy in puppy parties (off leash play). Early socialization (prior to 4 months of age) builds emotional confidence and makes your location a "happy place."

__ 2) Offer early puppy daycare for more positive socialization through play. Puppies need to start prior to four months of age. Group puppies in runs by age and size beginning at 8 9 weeks of age.
__3) Recommend three times/week for puppies up to 5 months, then weekly until two years old to maintain their canine social skills.