Your Mission this month -
should you choose to accept
- is to learn
how
to offer

behavior medicine

with the support of your assigned Veterinary Behavior Consultant and Veterinary Behavior Technician.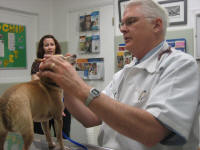 Some pets, like humans, need medication to reduce anxiety while learning new behaviors. Other pets have imbalances in their brain chemistry and need the benefit of medication to live happier, less stressful lives.
Dr. Tripp says, "Take a behavior history before you take a life!" Too many pets are surrendered and euthanized due to misunderstood pet behaviors that could have been resolved.
Support close relationships between pets and families. Find out if there are any unwanted pet behaviors. If simple, enroll in the ECourse, if severe or complex, recommend a pet behavior history analysis and consultation for the pet parent. Then, simply call or fax 1-800-372-3706 (ph/fax) to provide the pet parent name, phone number, email (if you have one) pet name, and behavior issue. A Veterinary Behavior Technician contacts your pet parents to explain and offer pet behavior help.

Your location can also send pet parents information about behavior services using the online Client Entry Wizard. If you select "Pet Analysis" the pet parent will receive information on how the Analysis can help.

Questions? Need Help? Call or Email me today!