Corrective Behavior Services
---
Corrective - Veterinary Pet Behavior History Analysis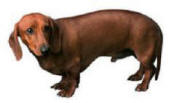 PetEthogram™ Pet Behavioral History
Veterinary Behavior Consultant analyzes all behavior issues that might be going on:
An analysis of the pet's probable motivation for the behavior
The likelihood of correcting or improving the behavior.
An estimate of the amount of time the pet owner will need to invest
Whether or not a canine obedience training group class is indicated
Whether a home training visit might be indicated or helpful.
A cost estimate for any additional behavior modification consulting
Medical procedures or behavior medications that might be needed
A list of any products that might be helpful in the issue resolution
Report sent to the attending veterinarian and client
Client Veterinary Pet Relationship stays with the attending veterinarian
Professional fee charged to pet parent ranges from $75 to $210.
Behavior Modification Programs - Customized
Recommended by the Veterinary Behavior Consultant after an analysis
Each program is individually designed
Average program is 2 - 4 months; goal is one to two years follow-up
Unlimited email and telephone consultation for duration of program
Cost to client is variable ($200-400 Treatment Plan, Supervision $35-100/mo.)
AnimalBehavior.Net Abbreviations

VBT Veterinary Behavior Technician
Non-DVM, RVT Certified, typically with a B.S. Degree
Veterinary Technician with special interest in behavior
VBC Veterinary Behavior Consultant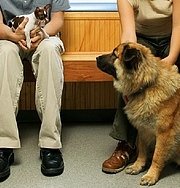 Veterinarian with special interest in behavior
Evaluates case and gives an opinion
DACVB Boarded Vet Behaviorist
Specialist opinion from a world authority
ALT Affiliate Local Dog Trainer
In-home visits
Group classes