Your Mission this month - should you choose to accept - is to understand the basics of successful puppy socialization classes.

In the last two decades, much has been learned about the best ways to shape canine personalities into ideal canine companions. The most important lesson learned in recent years is that dogs develop better personalities from positive reinforcement and gentle methods that from traditional obedience methods using collar corrections

Gentle methods are also simple and easy to do at home to prevent common problems with house training, destruction, hyperactivity, excessive barking, fearfulness, and aggression toward dogs or people.
Puppy socialization classes are the BEST time (early on) to teach pet parents how to use proven, gentle methods to teach puppies at home.
Offering puppy parties or socialization classes or recommending one nearby is the BEST give to help people raise well-behaved dogs.

In puppy socialization classes, puppies learn important lessons from other puppies in the setting nature intended - play time. Puppies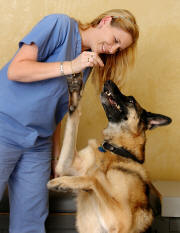 learn to inhibit their bites because gentle play attracts more play mates. Puppies can also learn a helpful vocabulary with off-leash, gentle methods. The goal of puppy class is to help clients start off right to raise IdealDog™dogs.