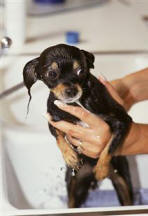 Your Mission this week -
should you choose to accept
- is to learn new ways to safely and gently handle dogs and cats in your care and learn how to distract pets when giving injections.


Who is the best animal handler in your location?
Ask the best handlers on your team to teach others.
Your mission is to care for both the pet's emotional and physical needs. Learn how to manage the pet's perception of veterinary care - to lower fear and stress and promote a positive association with your voice, body language and bribery (cookies).

Distraction Techniques for giving injections: Questions? Call us!
GOAL = the pet thinking about something else when the injection is given.
Cookies

Slip and slide
Spin the puppy or kitten (cat)
Hug and squeeze
Post restraint
Pat and Poke
Mouth noise
CAT TIPS: 1) Wrap cats in fully towels, 2) Open the top half of a kennel and allow the cat to stay in the bottom half. 3) Try a calming cap, 4) Gently stroke the nose or top of the head while the injection is given. 5) Spin the kitten entails putting hands on opposite sides of the body and gently rotating the cat 360 degrees two to three times before giving the injection as soon as you stop.
Learn how to help pet parents prevent fear and aggression associated with human hands by demonstrating gentling exercises and recommending pet parents do daily gentling with treats and praise.
IMPORTANT: Take a deep cleansing breath and RELAX all your body tension to help pets relax. Yawn, look away and give other "calming signals" to help the pet relax. Do NOT face pets straight on or give direct eye contact (threatening). Instead, put a finger out to sniff while standing to the side. Toss or offer "cookies." Treats should be the size of a cheerio.

You are learning how to transform your animal care methods and location protocols into kinder, gentler experiences for pets and their people! We are here to help every step of the way!