One Time Location Set Up

1. Prevent your Network emails from being blocked or put into a SPAM folder by adding the email extension @AnimalBehavior.Net to your list of acceptable emails.

2. A One Time Location Set Up will customize the pet behavior education ECourses with your location name and phone number to create goodwill with team members and clients.


Owner -
One Time Location Set Up
3. The Network makes is easy to include your team in the excitement of new behavior education and services. Forward this email to your team members to get everyone familiar with how to help more pets and people with the Animal Behavior Network.

All Team
- Checklist 01 -
All

Team Orientation


ALL TEAM ORIENTATION:
FORWARD these emails (ELessons) to every DVM and Team Member at your location. Review ELesson progress in staff meetings.
---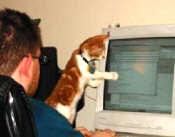 Visit the

Animal Behavior Network

Member Library. Or

, if you prefer,
call for a "Guided Tour" at 1-800-372-3706.
Use the
Member Login
button on the home page (
www.animalbehavior.net
) to get started or
Click Here
.

MANAGEMENT TIP: Your location is assigned one Main Login (Username / Password). Change Password to something easy for everyone to remember. Contact Us to change both Username and Password to something simple like your accronym. For example, SFH for Santa Fe Hospital.

Username (UN): SFH
Password (PW): SFH