Introduction

Food bowl aggression, also known as food-related aggression, is a common problem with certain breeds of dogs. When a dog has food-related aggression, he or she will guard his or her food, treats, rawhides, or bones from other dogs or people. How the dog shows food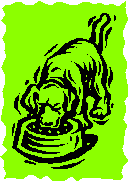 -related aggression can be quite variable. Some dogs begin to growl softly from a great distance and increase the intensity of their growling as people approach. Some dogs growl while shaking and gulping their food. Some dogs stare and snarl at anyone within their view while eating.

The presence of food is a part of everyday life. Food bowl and toy guarding can be a safety concern if small children are around. Even if you decide not to actively treat any signs of food-related aggression in your dog, understanding it can help you to prevent it from escalating.
Once a dog over the age of seven months has developed a habit of food and toy guarding, it is much more challenging to modify or change this behavior.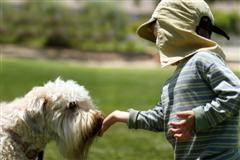 How to prevent food bowl aggression
It is easy to
prevent
food bowl aggression in most dogs. The strategy is to spend time with the puppy during feeding by petting, brushing, massaging, and talking to the dog while he or she eats.
Before feeding the dog, ALWAYS ask the dog to "Sit," first. Then hand feed the first few kibbles before putting the food bowl down.
Put one kibble in the bowl at a time to get the dog use to you picking up the empty bowl to put in another kibble.
When the dog has kibble in the bowl, call the dog away from the bowl for an extra special treat.
If the dog does NOT show aggression, approach the bowl and add food.
If the dog does NOT show aggression, approach w
hile the dog is eating to drop in a tasty treat such as a piece of chicken or a piece of cheese.
Sit in the same room when the dog is eating. If the dog is relaxed move closer.
How to respond to food and toy guarding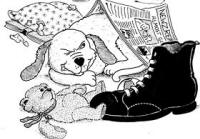 For puppies over four months of age and adult dogs, it is safest to work with the assistance of a professional. Some dogs have a genetic tendency to guard valuables.

Teach the dog, "Leave it, and Take it" instructions.
Vocabulary can be taught to dogs at any age. Learn how to use gentle methods that keep learning fun and successful for you and your dog.