<![if !vml]>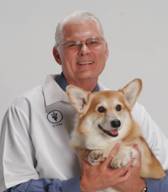 <![endif]>Rolan Tripp, DVM, CABC
Author, Speaker, Inventor,
Founder of AnimalBehavior.Net (ABN)

Prior to receiving his doctorate in veterinary medicine from U.C. Davis, Dr. Rolan Tripp completed a Music BA (Percussion Performance) with a special focus in rock drumming, and a Philosophy Minor (Ethics, Logic). This logical yet philosophical approach blended with an affinity for performance shows in Dr. Tripp's entertaining, educational and captivating writing and speaking styles.

Dr. Rolan Tripp is certified by the International Association of Animal Behavior Consultants (IAABC) in both canine and feline behavior.

Dr. Tripp has served as the California Veterinary Medical Association (CVMA) Membership Chair, the CVMA Representative for the American Heartworm Society, and as Santa Clara VMA President. Current Memberships include: AVMA, CVMA, SCVMA, Society for Veterinary Medical Ethics, and the American Society of Animal Behavior. He recently completed a 6 year term representing private practice, exclusively small animal, on the AVMA Council on Veterinary Service.

Dr. Tripp has been the featured speaker at the Animal Behavior Seminar in Toyko, Japan. He presented a paper at the International Conference on Behavior Medicine in Birmingham, England and has lectured including a Keynote Address at the CanWest Veterinary Conference in Banff, Canada. He has lectured at the Smithsonian in Washington, DC, and at Veterinary Conferences in Puerto Rico and Mexico. He is a past Affiliate Professor of Applied Animal Behavior at both Colorado State University Veterinary School and the University of Wisconsin Veterinary School in canina and feline behavior.
In addition to small animal practice, Dr. Tripp created a video program, "VideoVet." Four production awards led to an offer by PBS and Cable Health Network to produce video segments about animals. Dr. Tripp became a content consultatnt for Animal Planet and can be seen on two shows: "Petsburgh, USA" and "Good Dog U." View Dr. Tripp's Animal Planet Segments

Dr. Tripp's special interest in animal behavior development began after discovering that behavior is the most common cause of pet euthanasia. Dr. Tripp learned that most dog behavior problems can be prevented with "puppyhood" socialization and good follow up care. Dr. Tripp has supervised the training of over 4000 puppies and has done extensive consulting on both dog and feline behavior.

As founder of the Animal Behavior Network (ABN), Dr. Tripp hopes to transform the general veterinary practice into a Pet-Friendly Practice® by providing pet behavior education and services support to veterinary practices nationwide. Dr. Tripp's veterinary practice manual, Pet Perception Management™ is a guide for veterinarians on how to begin offering behavior services.
The newest concept in pets focuses on their mental and emotional health in addition to physical health. Generally, we now realize that unwanted pet behavior is often the result of pet emotions such as frustration, confusion, loneliness, and anger. Therefore, through professional analysis and consultation, it is possible to resolve behavior concerns and create a happier pet in the process. See www.PetHappiness.net.