What is doggie daycare?

Doggie Daycare consists of day kenneling, supervised play sessions and some basic training. The primary goal of daycare is to safely socialize the dog to build confidence and reduce fear by praising and rewarding the dog for acting calm in a variety of situations. The highest emphasis should be on positive interactions (with people and other dogs), since Daycare is part of socialization training. Daycare is intended to provide your dog with mental stimulation to increase intelligence as well as being simply a fun day away from home!

How to evaluate a daycare program?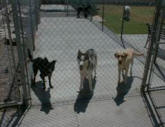 Before enrolling your puppy in a daycare program, tour and evaluate the facility and program. What you are looking for is a clean, comfortable environment with friendly, experienced handlers and a beneficial list of activities. Consider enrolling your puppy in a good daycare program once a week between 3 and 5 months of age. Weekly sessions (or more) at doggie daycare is also recommended for friendly adult dogs. This is an excellent way for dogs to learn to meet and play nicely with other dogs.


The primary goal of daycare is to safely socialize the dog to other pets, people and places to build confidence and reduce fear.

Why is daycare important?

Early socialization is critical to developing a friendly, relaxed adult dog. Puppies are considered in their critical socialization period from ages 1 - 3 months of age. This is the best time to provide your pup with positive introductions to all ages of people, types of pets, your lifestyle, rides in the car, and essentially all that the dog will see and experience at home and when out and about. Your job as the canine instructor is to create a positive impression of these things by acting relaxed and jolly when you are around them. If your dog shows fear or uncertainty, you can go near or touch the object to show it is not threatening. Encourage but do NOT force your dog to go near a feared object.


Is daycare good for every dog?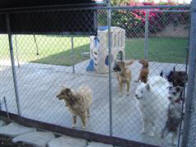 Daycare is best started at an early age. Ideally, a puppy starts daycare at 2 months of age and attends at least once a week. At this early age it is VERY important that the puppy be protected from any negative experiences. The Daycare Center needs to be selective in the size and ages of pups that are allowed to play together or hang out in a run together. At the veterinary practice, daycare may include socializing the puppy to exam room and grooming tables, coupled with treats. All playtime should be supervised!
If aggression and/or fearfulness are observed in social settings, then daycare is NOT the right choice. Instead, individual work with a trainer or consultation with an animal behaviorist is strongly recommended. Otherwise, these bad habits may limit the dog's freedom and joy to play with other dogs in the future. Just like people, dogs benefit from social time with other dogs. It is great exercise to be able to romp and play in off-leash, safe environment such as a dog park or dog beach.
Hear veterinary behavior consultant, Dr. Rolan Tripp, talk about the importance of early puppy socialization
-
click here
.



One school of thought considers dogs
developmentally disadvantaged
if they have not been provided early socialization experiences.