Need Help?
Call 1-800-372-3706
to speak to a Veterinary Behavior Technician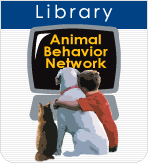 Help is at your fingertips by library, email and phone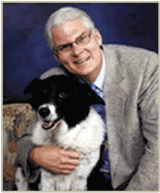 Dr. Rolan Tripp
and Wonder
Thank you for participating in the Network!
Becoming Pet-Centered Professionals
Proprietary Materials Agreement
---
All Materials are Copyright Protected © 1998 to Present by Rolan Tripp, DVM, Susan Tripp, MS, Animal Behavior Network and Affiliates with All Rights Reserved.
Business owners need to read this agreement carefully, sign and fax the agreement to the Animal Behavior Network in order to participate and use all Materials.
I

understand and agree that all written, video, web pages, emails and other learning materials ("Materials") made available to the Animal Behavior Network participants and AnimalBehavior.Net (ABN) Members are the intellectual property of Rolan Tripp, DVM, d.b.a. Veterinary Telecommunications ("VT") and subsidiary, "Animal Behavior Network ("ABN").

I understand

the M

aterials are protected by federal copyright and trademark laws.

I agree to abide by all copyright laws with respect to the Materials.

I further agree NOT to reproduce, copy, or otherwise duplicate, or distribute, or otherwise transfer any copies of such Materials WITHOUT the copyright

. I understand and agree that

internal staff training

M

aterials may ONLY be duplicated for Member use

and

NOT

used outside of the location or

for sale.

I further understand that the Methods, Techniques, and Materials (collectively, the "Information") presented

in the Animal Behavior Network ECourse and online Library

are of material value, and are presented by agreement between

Network Member location owner (my employer)

and myself

.



I understand that I am welcome to benefit from the information personally with my own animals.


I

agree, however, not to

share without Copyright,

resell, modify and sell, or repackage and sell any Materials; or to present any Information as part of any competing seminar, training program, workshop, consulting, similar business activity or public use for the purpose of financial gain.

I agree that this Agreement supersedes any prior agreements regarding the use of such Information. If I have violated any portion of this agreement in the past, I will be absolved of any wrongdoing, IF providing complete disclosure of the facts, in an addendum to this agreement that includes an attempt to repair that transgression.


Team members have also read and signed this agreement not to use Materials in any unauthorized manner.
THIS AGREEMENT PROVIDES PROTECTION FOR THE MATERIALS PRESENTED BY ANIMAL BEHAVIOR NETWORK (ABN) AND BY DR. ROLAN TRIPP, AND EXTENDS BEYOND COPYRIGHT LAW. BY SIGNING THIS AGREEMENT, YOU ARE AGREEING TO BE BOUND BEYOND SUCH COPYRIGHT LAW.
Business Owner Name (Please Print):_________________________________________

Title: __________________________________________Date:_____________________

Signature: _____________________ _________________________________________
PRINT and FAX to 1-800-372-3706.

Please feel free to call Dr. Tripp at 1-800-372-3706 Ext. 82 with any questions.
Thank you for your understanding and agreement to these Copyright required terms!