Behavior Services Policies
---
Client Terms and Liability Statement
The more closely you follow this program with your dog, the more success and enjoyment you will receive. Please attend the Dog Behavior Seminar at least once. Once the first training class has started, enrollment fees are non-refundable. Puppy classes can be made up as long as the dog does not have adult canine teeth. Each class is 50 minutes to allow time for the next class to come into the space.

Health Requirements:
Puppies must have had a physical exam, at least one set of vaccines, monthly flea control and a negative fecal or monthly internal parasite control program.

Missed Classes:
One adult dog class missed may be made up in the next session. It is preferable to send someone else with the dog if possible. Additional classes missed may be substituted with an equal number of DayCare days.

Informed Consent Statement:
I release this hospital and IdealPuppy™ and IdealDog™ associates, officers, agents, and employees of any liability for damage to or the loss of my dog whether by theft, escape, illness, death or injury before, during or after this training program. I understand that illness and injury are possible in this class and play setting. As owner, I accept any and all liability for my own pet and its actions, and agree to be very tolerant of others.

By signing this enrollment form, I are agree to assume full responsibility for keeping my dog healthy and under control at all times. I will not bring to class a dog who is lethargic, has diarrhea, excessive coughing, or any sign of illness. I understand my dog could catch something any time it comes in contact with other dogs. I have or will complete all medical requirements before the first day of class.

Owner Name (Printed): Date today:

Address: City; Zip

Daytime phone: Night phone:

E-mail:

Fax: Dog Name:

Dog Breed: Birthdate:
circle one Sex: Male / Female Altered: Yes / No

I have read, understood and hereby agree to all terms stated in this enrollment agreement.

Authorization: (signature): _______________________ Date: ________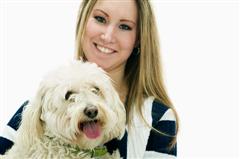 How did you hear about this class?
How will you pay today?
Paid: (Amt) ________________