Teaching the dog to behave when left alone in the car

When taking the dog on errands, one goal is to teach the dog to behave in the car when we leave him or her alone (and remember, this should be for only the briefest of time). We do NOT want the dog to chew, bark, or misbehave in any other way. Set the dog up for success. Begin by leaving the dog alone for just a few seconds or minutes. Only take the dog with you when you know the errands will be short and you will have the time to reinforce good manners.

The dog must not think that barking brings you back to the car.
Teaching good behavior step by step


Begin by stopping the car at a quiet location. Tell the dog to,
" Wait."
Get out of the car and walk around it. The dog will most likely watch you the whole time. If the dog is quiet, open the door but do NOT let the dog out. Praise the dog profusely by saying,
"Good girl (boy)"
and give a food treat. Repeat this two or three times, each time making a wider circle. If successful, begin to increase the duration you are away from the car but stay within sight. If the dog starts barking immediately, instead of walking around the car, just stand there until the dog is quiet, then open the door and praise. The goal is to praise and offer treats to the dog
before
any barking begins. The dog must not think that barking brings you back.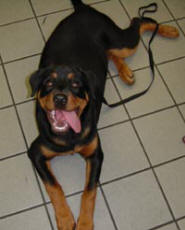 When the dog is ready, begin to step out of sight. Increase the amount of time you are out of sight in small increments. At first come right back into sight, return to the car and praise and treat the dog for being quiet. Repeat, this exercise a few times. It should take 10 to 15 minutes to teach the dog to wait quietly in the car, as long as he or she does not already have a problem. On the next few car trips, plan time to work with your dog.
If a dog is already a confirmed barker, it may be necessary to consult an animal behaviorist for additional help. On your own, you may try the same procedure, but go much more slowly to avoid the triggers of the barking, such as grabbing the car keys, opening the door, stopping the car, etc. It may be necessary to use something like a Kong® stuffed with a tasty treat (given
prior
to any barking) to preoccupy and counter-condition the dog's anxiety about being in the car or alone in the car. Once the dog can handle one to two minutes alone in the car, the dog can usually be left for up to 5 minutes but continue to increase the time in small increments. Remember to
always
consider the temperature when leaving a dog alone in a vehicle. Safety first!