What are socialization classes?

Puppy socialization classes are being held in almost every city in America now, though it might take a few phone calls to track one down. Veterinarians or local trainers often know where these off-leash, indoor puppy classes are held.

How to evaluate socialization classes?

Look for a puppy class that allows puppies to play off-leash and where no collar corrections or choke chains are recommended or used. Playtime teaches pups to read dog body language and relate without being overly controlling or fearful. Puppy classes should allow at least ten minutes of playtime with other dogs each class Food rewards, elimination training, bite inhibition, lure training, gentling exercises, and basic Instructions are typically taught in reputable puppy socialization class. Look for an instructor who is skilled in helping your dog be brave but not pushy with other dogs.


The primary goal of socialization classes is to safely socialize the puppy to other pets, people and places to help shape a friendly, relaxed adult dog personality.


Why is early socialization so important?

Early socialization is critical to developing a friendly, relaxed adult dog. Puppies are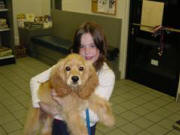 considered in their critical socialization period from ages 1 - 3 months of age. This is the best time to provide your pup with positive introductions to all ages of people, types of pets, your lifestyle, rides in the car, and essentially all that the dog will see and experience at home and when out and about. Your job as the canine instructor is to create a positive impression of these things by acting relaxed and jolly when you are around them. Encourage but do NOT force your dog to go near feared objects. The goal is to build confidence gradually. Allow a slight amount of discomfort in these early experiences to build frustration tolerance. This prepares the pup to handle unavoidable stress in the future without becoming too fearful or aggressive.


Are socialization classes good for every puppy?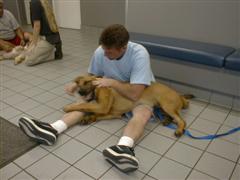 Yes! The BEST gift you can give yourself and your dog is to enroll in a puppy socialization class as soon as possible.
Socialization classes are beneficial for EVERY puppy and MOST beneficial between the ages of 2 and 4 months old.
The ideal education for puppies begins at three or four days of age and includes plenty of social and intellectual stimulation to help the brain develop with maximum intelligence and an optimal personality.
Puppies should stay with their mother and littermates until 5 - 8 weeks of age to be weaned and to learn healthy social skills from each other and the bitch.
You probably won't have an opportunity to interact with your puppy at this early age. Try to select pup that receives the proper socialization before adoption and then enroll in a socialization class.