No physical punishment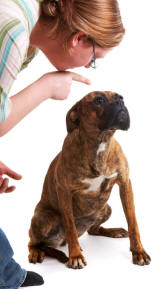 To develop an ideal dog personality, it is very important that no physical punishment be applied - no exceptions. This is true for the entire life of the dog. Never spank, slap, shake, force the dog over on his or her back, or do anything the dog might perceive as a threat or as aggressive.

Physical punishment often leads to a fearful personality, anxiety, and behavior problems later in life. Dogs that have been hit will cower and shy away when your hand reaches out to pet them. Physical punishment can cause a particular type of aggression, called defensive aggression. When the dog does not understand why he or she was physically punished, the dog responds in self protection and may become aggressive towards people.
Physical punishment, as well as doing anything that the dog perceives as threatening, may lead to fear biting and submissive urination.

Reward any and all good behavior to raise a dog that looks to his or her human as leader and source of all good things.
Interrupt, redirect and reward



If the dog needs correction, interrupt the inappropriate behavior. Verbal correction is acceptable but only if the dog is caught in the act of doing the inappropriate behavior. A "correction" (not punishment) means to interrupt the inappropriate behavior (such as saying, "off" when the dog jumps on you), communicate the correct behavior (redirect) (such as telling the dog to "sit"), and then reward correct behavior by saying, "good dog" and offering treats intermittently.

If the dog is chewing on one of your things, verbally correct the dog with a quick, sharp sound like a clap, or word such as, "No." If the dog drops the item or moves away from it, say, "good dog".

Find chew toys that the dog in interested in chewing. Praise any interest in the chew toy. The rule is "praise what you want and interrupt what you don't want." One way to redirect the dog from doing the wrong thing is to give the dog the right thing to do such as asking the dog to "sit."


Prevent your dog student from learning bad habits by interrupting inappropriate behaviors, teaching desired behaviors, and praising the behaviors you want to continue.

As your relationship develops, the dog will increasingly seek out opportunities to please you and will take great delight in simple verbal praise and attention.

The rule of thumb is to find at least five things to praise for every one correction given.