Introduction

Exercise enthusiasts know that jogging is one of the healthiest forms of aerobic exercise - for both the human and canine jogger! A dog is a wonderful jogging companion but it is more fun for both if certain rules are followed.

You want the dog to realize that it is in the dog's best interest to keep a loose leash because a tight leash means the walk stops..
The Rules for Road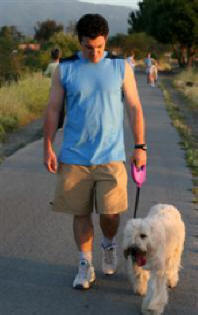 Just like with humans, dogs must gradually build up their exercise endurance. If you have a dog that is out of shape or older, this is especially important. Before training for that 25K run with your canine companion, make sure both of you are in good health and extend the amount of exercise
gradually
over a period of time. It would be a good idea for you both to have a training schedule so that neither one of you overdoes it.
Canine Jogging Companions
Begin your jogging routine with a brisk walk to warm up. This also allows the dog to sniff, urinate and enjoy a sensory sensation! Once the jogging starts, teach the dog that you decide when to start and stop the jogging. It's a good idea to stop jogging and slow to a walk before, during and after your jog to allow the dog to sniff and empty the tank. If the dog does urinate or defecate, the jogger needs to stop and give the dog this time.
Remember to clean up after your dog to keep dogs welcome in jogging areas. The easiest way to do this is to keep baggies and a plastic grocery bag in your pocket. Reverse the baggie to glove your hand to pick up the feces. Then put the baggie into the plastic grocery bag for easier handling until you can dispose of the feces and in a waste receptacle.

Praise the dog for jogging at your side without pulling ahead or lagging behind. If he or she begins to pull, then simply give the instruction, "Easy" as a reminder with a gentle, quick tug on the leash. Soon the dog should understand that "easy" means to ease-up on the lead. You want the dog to realize that it is in the dog's best interest to keep a loose leash.


It's an excellent idea is to teach the dog to stop at every curb. Cue the dog by slowing down as you approach the curb. Just before the curb, tell the dog to "Wait." This instruction cues the dog to stop and wait for permission to cross the curb. If the dog steps off the curb, pull the dog back or use a body block and say, "No!" followed by the instruction, "Wait." Praise the dog for complying. You may want to ask the dog to sit and wait. Do not do any heavy jerking. Simply make it impossible for the dog to proceed once the "wait" instruction is given.