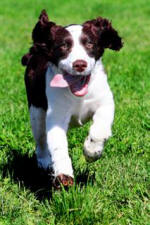 Identification

What do people say when their dog is lost? It's so predictable. They say, "This is the first time this has ever happened!" They can't believe the dog got out. If they could have known they would have made sure that dog was wearing some form of identification. If they could go back in time, they would make sure the dog had an ID chip - regardless of cost. They are heartbroken and worried about what their pet might be experiencing. They are scared that their pet may be hit by a car and suffering at the side of the road. Unfortunately, dogs that arrive at shelters with no identification may only be kept one week whereas those with identification may be kept up to one month before adopted out or euthanized.
The ideal time to implant a microchip is when the pet is anesthetized to be spayed or neutered.
Microchips


Implanting an electronic identification chip (also known as a microchip) is the best way to provide
permanent
identification for your pet. This new technology is now readily available. By registering with the microchip manufacturer, your pet will have his or her own unique number and the pet's details, along with your own, will be placed on the national database.
If your pet is lost and then found by an animal control department, animal welfare organization, or animal shelter, he or she will be scanned for a microchip (scanners with international standards are available at most all of these organizations, as well as your veterinarian). The implanted chip will 'talk' to the reader and your pet's unique I.D. number will be displayed. The national database will be contacted and given the I.D. number. Your details will be displayed and you will be contacted and quickly re-united with your pet.


I'll take a chip with that surgery
If the animal is already spayed or neutered, the microchip injection can be done by a veterinarian at a veterinary clinic. Many animal welfare organizations and animal shelters also offer this service.
Although anesthesia in not required for the placement of a microchip, it does make the process pain-free. The process involves the injection of a chip, the size of a grain of rice, under the pet's skin.
Traditional collar and identification tag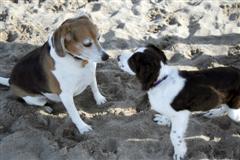 In addition to the microchip, to be on the safe side, write your phone number on the dog's nylon collar. Make sure your dog has a collar that cannot slip off over the head. Keep an identification (ID) tag on the collar. The ID tag should include current phone numbers and the last name of the owner. Reflective tags can be purchased that also help the dog to be seen at night. If your dog is lost, a reflective collar can help prevent the dog from being hit by a car due to low visibility.
All of the above methods of identification will be helpful in getting your beloved pet returned to you if he or she ever gets lost.