Introduction

Just like people, dogs need quality food and fresh, clean water daily. There are many types of dispensers for both food and water. Finding the right one is not as important in keeping whatever you use clean. Purchase dog dishes that can be run through the dishwasher. Have more than one set or buy half a dozen inexpensive, wide glass salad or pasta-type bowls to use daily.


Right before giving your dog a meal is one of the best times to take a minute for training. Make this the routine in your home.


Water

Fresh water is important to the dog. Since water is often left on the ground, it is commonly contaminated with dust, hair, and dirt. Therefore, it to be changed at least once if not twice daily. The bowl should be washed out with soap and water at least every two days. Dogs should not drink out of the toilet if at all possible because of the possibility of contamination and gastrointestinal disease.

Bowls

Food and water bowls should not be made of a cheap light vinyl m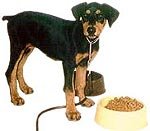 aterial. These will scoot across the floor, spill water, and some vinyl bowls actually cause allergic or toxic reactions around the lips and muzzles of dogs who eat from them. It is preferred to choose a hard rubber or very hard thick plastic bowl, the heavier the better. Stainless steel bowls are excellent for cleanliness. However, they can be quite noisy if dropped and are typically more expensive to purchase. If you dog has a habit of tipping their food and water, then you may need to consider large bowls with non-skid feet.

Frequency of feeding

On average, puppies should be fed small meals three times a day at about the same time every day until three months of age. Larger breed dogs should be fed at this frequency until four or five months of age. Feed older pups and adult dogs twice daily at approximately the same time every day. In general, food should not be left down all the time, unless directed by your veterinarian.

Learn to earn

Right before mealtime is a great time to take a minute out for training. Keep the dog guessing about what instructions and in what order you will request today. Keep this a fun, quality time activity with your dog by acting happy and smiling a lot at your dog. Help your dog learn how to be successful in pleasing you. Give the first few kibbles and your lavish praise when your dog responds to your requests. At the very least, expect your dog to earn each meal by doing at least one instruction such as "sit" before you deliver the goods. After all, you paid for the food. By having your dog earn meals and other valued resources, you remind your dog that he who has the gold, rules the kingdom.