What is the PetEthogram™?
The PetEthogram™ is software developed by Dr. Rolan Tripp for his Behavior Practice,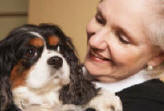 the Animal Behavior Network. The PetEthogram™ online history form collects essential data to evaluate the behaviors of cats and dogs. This on-line behavior history creates an individual profile for the pet which can then be sent via fax or email to the pet parent, veterinarian, and any other professional involved in the case.

If the veterinarian and pet parent can view PetEthogram™ from their own computers. The PetEthogram™ is completed and maintained by the owner in the comfort of their own home.
The beta version is currently available to general practice veterinarians with plans to release the Full Version of the PetEthogram in 2007. More on the PetEthogram development.
Request a Veterinary Behavior Case Analysis
Case Analysis - Veterinary Client Instructions
| | | |
| --- | --- | --- |
| PetEthogram™ | The PetEthogram™ is an extensive online pet behavior history form that the client completes from home. This is used to complete the Veterinary Behavior Case Analysis. Follow-up education by phone and email is available to the client. | Families complete an online pet history and profile, using the PetEthogram™ from the convenience of their homes. |