Meet Dr. Tripp's Behavior Practice Team
Introducing Tara Lang, BS, RVT- Past President of SVBT
Veterinary Behavior Technician Provider through Critter Communications, LLC.
---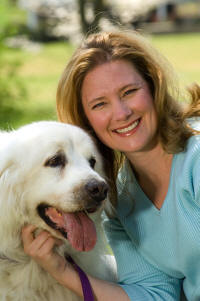 ©2006 Travis Duncan Photography
Tara and one of her companions Karlie
In 2003, Tara started working as a Veterinary Behavior Technician for Dr. Tripp's Behavior Practice. She now serves as Executive Director and provides all contract services and website services through her business Critter Communications, LLC. Tara says, "Referrals from local veterinarians to provide clients with private in-home training keeps me busy but my primary work is providing behavior support services for the Animal Behavior Network Members. One of my professional goals is to help other Veterinary Behavior Technicians prosper in the field of providing behavior education, follow up, and guidance through AnimalBehavior.Net memberships and services."

Tara graduated from Murray State University in 1995 with a Bachelors of Science in Agriculture with a focus in Animal Health Technology. While at Murray State, she was an active member, and officer, in both the Pre-Vet/AHT club and Alpha Zeta.

After graduation, Tara worked full-time in private practice as a registered veterinary technologist, for 7 years. It was there that she discovered that she had a knack for communicating with people. She became responsible for educating most of the puppy, kitten, and exotic pet owners on how to provide the best care for their pets. This involved a great deal of behavioral husbandry counseling as well as providing traditional medical information. Tara says that many of their clients were coming to the veterinary office with out-of-date information, particularly when related to behavioral medicine.

Tara decided to devote her career to educating clients using current and accurate information. She began concentrating her continuing education courses on behavior and exotic animals, attending seminars such as those conducted by the American Veterinary Society of Animal Behavior and the American College of Veterinary Behaviorists. She says this continuing education has not only provided a wealth of information, but also increased her enjoyment and confidence in advising and working with clients on the ever changing needs of their beloved family members.

Since the early 90's Tara has been lecturing to international, national, and state veterinary associations about exotic animal care and preventive and corrective mental health. As a past officer of NAVTA (the National Association of Veterinary Technicians in America) and Past President of the Society of Veterinary Behavior Technicians she recognizes the importance of educating clients not only on the health of the physical body of their pet but also the mental health. In 2005, she added canine and feline behavior medicine to the docet. She continues to lecture in her spare time.

Located in Missouri, Tara has left private practice as a veterinary technician and now only consults on behavior cases. She and her husband Kerry are raising two children, and are active members in the church and community. During the week Tara helps lead a group of Christian women through "small group" bible study and on the weekend teaches elementary age children to whole-heartedly follow Jesus Christ. Her most recent passion is bringing the harmony between mind and body to her fellow human beings and teaches Barre and Yoga classes at a local yoga studio. She began yoga with only a casual interest in 2009 but it has evolved into a passion and a journey that keeps her body and mind renewed for all the challenges of animal behavior!