Why Add Behavior Education and Services?
1) Attract New Pet Parents         
The value of this is obvious. There are two methods. People tell each other - a word of mouth draw. You can promote new pet behavior education and services. You can add to ads, "The Puppy Place to motivate people to travel past many other practices to come to you.
2) Happy Team
Your team is gratified by helping to keep pets and people together. Pet welfare is improved when people learn safe and gentle animal handling, training, and care. Fewer pets are neglected, abused and surrendered due to unwanted pet behaviors at home. Patients are easier to handle.
Standardize your education to the gentle, proven methods staff and clients learn from the Positive Pet Parenting ECourses at home personalized to person and pet. Demonstrating gentle methods helps both pets and people.      
Your team gains greater confidence with AnimalBehavior.Net education and guided learning. Your team improves their own relationship with pets at home and can help family and friends to do the same.
Everyone loves to handle and play with puppies and kittens. By advertising a special interest in early puppy and kitten development, you increase the number of pups and kittens everyone gets to hold.
3) Increase the Pet Parent's Esteem of the Professionals
If you don't implement standardized pet behavior communication, your clients hear "wildcard" personal opinions that differ with each team member and may even create practice liability. On the other hand, if your location provides pet parents with reliable education on how to prevent and solve behavior problems, clients view your location as having high standards in all areas. Increased client trust and loyalty results in a greater participation in your services and recommendations.
4) Bond these pets and people to your location
When pets are eager to visit your location because they associate your place with treats and the enjoyment that comes from early socialization services, clients are more likely to visit more often. Clients do not like to see their pet's fear or pain. Clients will choose your location over others who do not take the "pet's perception" of the visit into account.
When you provide the behavior education and services that increase the clients joy of having a pet and decrease pet behavior problems, your clients are grateful and loyal to you.
Your team and clients enjoy learning more about pet behavior and how to teach pets at home using gentle, proven methods.
5) Increase the tendency of the people to accept recommendations
Pets without behavior problems are more likely to live indoors with the family. Well-behaved, happy pets typically receive better care.
6) Veterinarians will have more cooperative patients
Pets who have been "gentled" during their early socialization and critical learning period, are more likely to become calm and friendly adult pets who like coming to the vet office. Pets are not excessively aggressive or fearful. They easily tolerate such procedures as venipuncture and radiography.
When your team learns how to protect the pet from fear and pain, the pet is less stressed and easier to handle.
7) Increase the life expectancy and the number of pets per household.
Pets with serious behavior problems usually don't stay in the family. Furthermore, after a bad experience, people are reluctant to get another pet. If there is a strong satisfying bond, the family will not only take relatively better care of that pet, but will be more likely to add more pets to the family.
8) Add new revenue centers
IdealDog Behavior Seminar
Free - Press Release

IdealPuppy™ Parties
Free - Press Release, Advertise
IdealPuppy™ Classes
$12 - $15 / Class

IdealPuppy™ DayCare       
$15 - $30 / Day  
Deluxe Ward or Board (include TLC TID + extras)
$$ added to reg. boarding fee (optional upgrade)

Pet Behavior History Analysis (paid by client to Dr. Tripp)
Antech Doctor Consult Line - DVM consultation with Dr. Tripp (no charge)
$100+ Labwork at the Hospital REQUIRED prior to the Analysis
Call 1-800-372-3706 Ext. 87 or Antech 1-800-745-4725

Veterinary Behavior Case Supervision (paid by client to Dr. Tripp)
"Brief Behavioral Assessment" and "Brief Neurological Exam" (your location)
$60 Extended Exam (to complete using forms provided by Dr. Tripp
Call 1-800-372-3706 Ext. 87.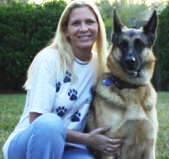 Call or email me with questions or suggestions for improvement.
Serving pets, people and professionals!

Kristen White, CVT
Veterinary Behavior Technician
1-800-372-3706 x 87
www.AnimalBehavior.Net
Behavior Support by Email