Leashes and collars are more than just a fashion statement --- they are critical for identification, exercise, and control.

The best time to introduce collars is when pets are very young. Read more on how to pick out and fit the right collar and then how to get your cat to love it!
Introduce the collar by putting it on your cat during feeding. Make wearing the collar fun by offering treats and praise before, during, and after each fitting. Ignore any inappropriate behavior.
Neck collars come in all shapes and sizes.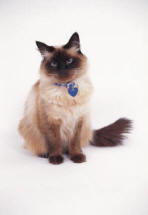 Don't just choose a collar that is fashionable. When buying a collar for your cat you must also consider safety. We recommended a collar made from nylon webbing.
A snap-together (sometimes known as a "quick-release" or "breakaway" collar) is easier to adjust than a buckle type collar. Breakaway collars are designed to release if snagged on trees, fences, or otherwise - releasing the cat to safety.
The snap type collar can be fitted more accurately than a buckle type, which must be limited to where the holes are located (which are placed often too far apart). The correct fit for a collar should allow two fingers to be placed comfortably underneath it but fit tightly enough that the collar cannot be slid over your cat's head. The fit should be checked on a regular schedule (approximately once a week) as your cat grows.
Breakaway collars are the safest for cats and can save a cat's life.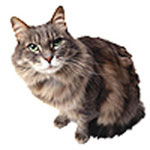 Introducing the collar
Hopefully, your cat sees treats and expects you to introduce a fun new game. It makes sense to introduce the collar with treats. Before putting the collar on your cat leave it out where he/she can see and smell it for a few days. Praise any interest your cat shows in the collar.
Putting on the collar
When you fit the collar, have treats handy. It's best to adjust the collar for the appropriate fit before you buckle it. At first, your cat may shake, run around or even scratch at the collar. Ignore all of these inappropriate behaviors.
Once your cat ignores the collar, approach, and give a treat and then remove the collar. Repeat this sequence for a few days allowing your cat to wear the collar longer each session. When your cat completely ignores the collar, it is time to introduce a harness (if you will be taking your cat for walks outside).
Attach an identification tag to the collar. In the event your cat gets lost, an identification tag is the ticket home.

Advantages of Nylon Collars

1) Easily washed
2) Economical
3) Durable
4) Breakaway type does not choke the cat
5) Easy to attach an ID
6) Can write your phone number right on the nylon
7) Can be adjusted to the best fit