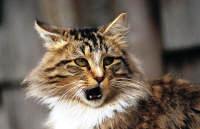 One bad experience with a small child can bias the kitten against all small children. Kittens generalize their learning which means they show fear in situations that remind them of prior trauma or pain.

Punishing a kitten by hitting or spanking may result in kittens avoiding all humans. Kittens flee, hide or assume telling body postures when feeling scared. Fearful kittens crouch with ears back, tails tucked, eyes widened and pupils dilated.

To avoid being bitten or scratched, let fearful kittens lie. At most, turn sideways and toss treats as a peace offering.

Kittens that are handled frequently and regularly during the first few weeks of life tend to be friendly and explore more.

When genetics are the cause of fear, kittens may always be timid and shy. Poor nutrition during early development also affects the kitten's healthy emotional development.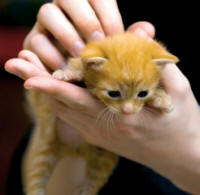 Whether the kitten fights or flees when fearful or shows defensive aggression depends on both on a genetic predisposition and learned behaviors.

Late Socialization: 9 to 16 weeks old[1]
Vigorous exploration of the environment and climbing.

[1] AAFP. (2004). Feline Behavior Guidelines. Pg. 10