Believe it or not, most cats can be taught using an incentive plan and enjoy the mental stimulation and attention.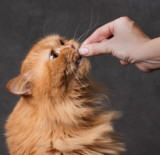 Choose a teachable moment when your kitten is hungry and looking for attention.

Teach your kitten to do specific things to earn your attention. Offer treats to keep your kitten's attention for the lesson. Learning new things enriches your kitten's spirit and your relationship.

Start simple. Show your kitten a very tasty treat to get undivided attention on the treat. Allow the kitten to lick it as you SLOWLY move the treat slightly up and back over the kitten's head as if stroking the kitten.

Move as slowly as it takes to keep the kittens tongue on the treat. Done correctly, the kitten will sit automatically because it's easier as the nose tilts back.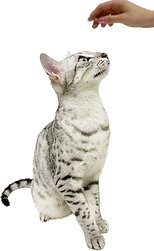 Release the treat as soon as the kitten sits and praise. If the kitten stands up, the treat is too high. If the kitten keeps walking backwards, try the lesson with your kitten in a corner.

For your Education...

Late Socialization: 9 to 16 weeks old[1]:
Continues to learn social skills.

Social play peaks.

Social conflict over status may emerge.

[1] AAFP. (2004). Feline Behavior Guidelines.