Need Help?
Call 1-800-372-3706
to speak to a Veterinary Behavior Technician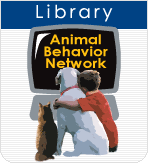 Click on Library Icon
Help is at your fingertips by library, email and phone!
Helpful Links
È

Behavior General Principals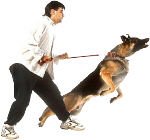 Dog Behavior Library


Dog Muzzle as a "Cookie Mask"
There are certain circumstances where a canine basket muzzle is indicated. If so, we want to "manage the perception" so that the dog perceives the muzzle as a good thing, or the least possible negative.
This is done by introducing the muzzle as a "Cookie Mask." Here is how to do this:
| | |
| --- | --- |
| 1) | When first introducing the muzzle, use it like a food bowl to place a cookie inside, and allow the dog to eat the cookie from the muzzle. A small piece of hot dog makes a good cookie for this. |
| 2) | Repeat this 4-5 times, until the dog READILY puts its face in the muzzle to get the treat. |
| 3) | Begin to tip the muzzle up, so it covers more of the face. |
| 4) | Use the pet's response to determine how fast to go. If the dog becomes upset, just take your cookies and leave. |
| 5) | Try to hold the muzzle in place for a few seconds, then take it off and drop a cookie inside. |
| 6) | Try to hold the muzzle in place, and squeeze a cookie into the mask from the outside, then take the muzzle off. Repeat this step several times. The goal is for the dog to see that "When I am wearing my mask, I get cookies!" |
| 7) | Begin attaching the muzzle behind the head, when the pet has accepted the mask, and you are tired of holding it in place. |
| 8) | Give plenty of PRAISE and happy talk when putting on the muzzle. If YOU act sad or apologetic, your body language signals the dog that the mask is a bad thing. |
In general, it is only necessary for a dog to wear a muzzle for very limited times and situations. One example would be for a visitor where you want the dog to be loose in the house, and do not have time to fully desensitize the dog to the person. Some trainers may prefer a muzzle to work with an aggressive dog. Then the trainer can relax, which allows the dog to relax, so you can relax.
The goal is to phase out the muzzle over time, but when it is used, the dog sees it at a "Cookie Mask."
| | |
| --- | --- |
| | |
| Wire Basket Muzzle | Plastic Basket Muzzle |