Getting Started Week 37 - Cabin Fever
Have you ever experienced "cabin fever" when you felt the walls were closing in and you craved a change of scenery? Imagine how your puppy feels when cooped up in your home or back yard day after day. Canines are intelligent beings that in nature roam and learn constantly to survive.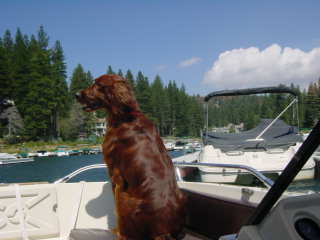 Your puppy can get stir crazy. The antidote? Get your puppy out of the house (safely) as much as possible, preferably on a daily basis. Canines need companionship, physical and mental stimulation.

Suggestions: Visit pet-friendly pet stores such as PetSmart. Teach your puppy how to be a good canine citizen by asking for lots of "sits." Practice leash walking. Keep a loose leash. Show your puppy how to walk next to a shopping cart. Lots of PRAISE is essential to your puppy's learning.

Use a doggie seat belt or crate in the car. Make this time together fun (and safe) for you both.

Cue your puppy to "wait here," when doing errands. NEVER take your puppy with you in the car if it's too hot or too cold. Park in shady areas when the sun is out.

The more you are together, the more you will be able to shape acceptable behaviors and teach new ones. This is fun and rewarding for both of you.
---
Parenting Tips™ for your puppy
| | |
| --- | --- |
| Error Free Puppy Raising™ - Click on links below to learn NOW: | |