Getting Started Week Eleven - On Your Mat Matey

A common mistake people make with puppies is not giving them "independence" training, thinking that restricting the puppies freedom is unkind. Your puppy will appreciate having a special place to go relax and settle.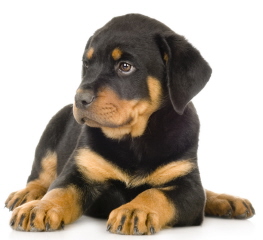 Canines understand "place" and need to know they are in a safe, acceptable place. Having your dog on a mat keeps shedding off furniture and carpet soiling from food chews. Choose a mat that is washable!
Select a mat, towel, or portable bed that you can carry from room to room and take with you when you and your puppy go out, that becomes the "place" for your puppy to hang out.


Provide a tasty chew that your puppy only gets when on his mat.


Start during dinner time. Leash your pup near you on his mat to teach "contented confinement," as a "calming" exercise. Feed the puppy dinner after you are done as a reward for waiting quietly.


Teach your puppy, "place" or "mat" and praise (frequently) for being on the mat and being calm and quiet.
_________________________________________________________________________________

__________________
Positive Dog Parenting® by Rolan Tripp, DVM and Susan Tripp, MS

Helping you raise the dog of your dreams and best friend for life.
...::::::: Copyright © 2000-Present All Rights Reserved by Rolan Tripp, DVM and Susan Tripp, MS, Animal Behavior Network and Associates :::::::...