Getting Started Week 41 - Too Little, Too Late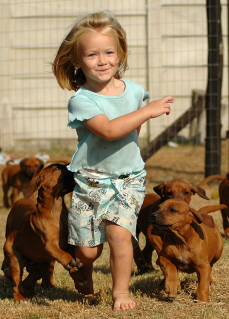 Remember when your puppy was small? Can you remember allowing your puppy to put those little paws on you as you allowed your puppy to plant delicious puppy kisses on your face? Do you remember your pup's first yip of frustration and what you did to quiet that cute little puppy?

Here's the problem. Your bigger and older puppy does not understand why the rules are changing now. It is normal canine learning to figure out what the world will be like and how to get what is wanted and needed during the first few months of life. Nature intended early learning to endure to support survival.
However, it's normal for people to change the rules when the pup's behavior goes from cute to annoying or bothersome. It may be cute the first few times your puppy rattles the food dish but after a while you see your puppy is telling you what to do and has become demanding of your attention around the clock.

Pet Parents Beware! You may respond to your puppy when your brain is on cruise control not realizing that you are teaching your puppy a new unwanted behavior by your response. There are very few dogs who have mental illness but there are very many confused ones.

Imagine what it must be like in your puppy's mind to be rewarded with your attention one time and then for the very same behavior receive a scolding the next time - crazy making! So, switch off the cruise control and beware that whatever gets attention - even if unintentional attention - gets repeated.
---
Parenting Tips™ for your puppy
| | |
| --- | --- |
| Error Free Puppy Raising™ - Click on Library Icon below to learn more NOW: | |