Getting Started Week 39 - Raising Canine not Cane!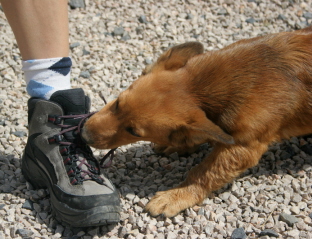 You don't have to raise cane to raise a canine. The Animal Behavior Network helps you learn how to cue not Instruction, and to instruct not correct pet behaviors. This puts a whole new twist on the term, obedience training. Dogs that are "obedience trained" do not necessarily know good home manners or be considered friendly canine citizens.

Living with your canine ought to be a fun and liberating experience for both species. Error-Free Puppy Raising™ Tips and Positive Pet Parenting Tips™ are written by Dr. Rolan and Susan Tripp to help you think that way and use proven, reliable, gentle methods to teach your puppy good behavior.

Please remember the adage, "Nothing works all of the time, and everything works some of the time," when try new behavior modification methods with your puppy. Your relationship with your puppy is intended to be a precious gift for both of you. Keep learning fun, if not outright hilarious. Get out the video cameras and enjoy the journey!
To have a happy canine, you need to be a happy pet parent. If you need help with how your dog feels and behaves at home, ask a veterinary behavior consultant.

---
Parenting Tips™ for your puppy
| | |
| --- | --- |
| Error Free Puppy Raising™ - Click on Library Icon below to learn more: | Better Method |