Pets need, desire and benefit from daily activity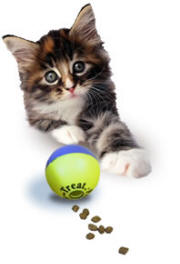 There are many brands and types of food puzzles. It's best to offer a few puzzles with varying difficulty and then rotate what is offered daily to keep these toys interesting. Finally, some pet parents make their own food puzzles using PVC pipe or other improvisations. For cats try a tissue role or Kleenex box stuffed with paper and hide food inside. Then let them tear it up!
A "food puzzle" is any toy or object that can contain food and requires the pet to work to find a way to obtain the food. The most common food puzzle is a, "Kong" toy. Kongs can be filled with cheese, peanut butter, cheerios, kibble or a variety of many things. The goal is for the food to be released slowly and with some effort on the pet's part.
Filling a Kong with canned food and then freezing it is a good way to slow things down! Just beware of where you offer the food puzzle as carpets have been known to take the brunt of these feeding devices. Placing them in a kennel is ideal.
Pets need mental stimulation and something to do during the day when their people are gone. Wild Canids (wolves, dogs, foxes, etc.) spend about 60% of their day searching for food. Feeding an entire day's food in 5 -10 minutes does nothing to encourage activity. Feeding from Food Puzzles allows hunger to be the motivation to play with the puzzle for hours, thus doing what nature intended.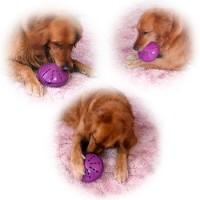 Is it fair to frustrate your pet with a puzzle?

Because PEOPLE eat fast food, they think dogs should. But people still spend the day in mental and physical pursuit of the money to buy the food. Ideally, pets would spend about the same amount of time "working" for their food.
Does a pet become frustrated with a puzzle?

Sure. The same way a teenager becomes frustrated with a video game. In both cases, the intermittent reward keeps them engrossed and excited.
Kongs and rubber toys with holes in them
can be filled with
various soft or hard treats such as
cheese,
bread,
peanut butter, cheerios,
store bought treats
s
tuffed tightly with a larger biscuit to help block the opening
.
Start easy and work your way up to making it harder and harder for your pet to get food from the puzzle. Human creativity in stuffing the food puzzle helps slow down the process of getting the food out. The slower the better once the pet is comfortable with puzzles. Have at least 3 different puzzles in different difficulty levels to rotate every day.