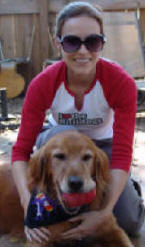 Melissa and a
well-behaved household member
Melissa began providing support services for the Animal Behavior Network in 2008.
She received her BS in psychology from the University of Georgia in 2001. After that, she went to I live in Hawaii for a year. While there, she volunteered at the zoo and decided that she wanted to make a career out of working with animals.
She returned to Athens, Georgia where she began working with pigs and cows on the University of Georgia campus.
In 2004 Melissa began classes in the veterinary technician program at Athens Technical Institute. She graduated with an Associate degree in 2006 and shortly after, passed her boards, to become a Registered Veterinary Technician.
Since 2006, Melissa has worked as the primary behavior technician at the University of Georgia School of Veterinary Medicine. This job combines her training as a technician and her psychology background.
Melissa is a member of the Society of Veterinary Behavior Technicians