Gulliver traveled the world and so can your kitten One benefit of an IdealCat™ is being able to share adventures and fun travel experiences. Travel can be enjoyable for you and your kitten.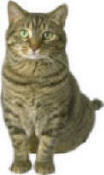 Pets should never be left alone inside parked cars unless the temperature conditions are perfect and the windows are slightly open.


In the summer, it may only take minutes for the heat to create danger,
even in the shade
. In the winter, closed cars become refrigerators on wheels. A cold car can be as dangerous as one in the summer heat. There is also a risk that your kitten may be stolen when left alone in a car.
Cats may go wild when they are loose in the car. You can be in danger if

your kitten

suddenly dives under the brake pedal.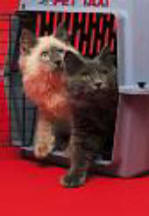 Remember a journey begins with one step
First, lure your kitten in and out of the car with treats when the car is parked in the garage. If you do not have a garage, place your kitten in a portable kennel. Give your kitten a treat each time the kennel is placed in the car. Ignore your kitten when the kennel is out of the car.
Move on to the next step
When your kitten shows no anxiety inside of the car, turn the motor on, give your kitten a treat, and turn the motor off. Do this for a few days until your kitten is not phases by the sound of the motor. When your kitten begins to act calm, add praise with the treat.
As you gradually increase the steps from driving in and out of the driveway to driving around the block, make sure you act jolly and praise

your kitten

for calm and brave behaviors.

Develop a fun travel companion

It is recommended to start having kittens "tag along" as early in the kitten's life as possible. The first goal with your kitten is to make sure that riding in the car does not always result in a negative experience such as going to the veterinarian for vaccinations. Prepare your kitten for joining you on errands that will be short and safe as possible. your kitten can learn to simply tag along in the car as your companion.

Provide your kitten a safe haven by riding in a kennel in the car

Make sure your kitten is more comfortable in the car while staying in the kennel. Put the most "cushy-comfy" bed in the kennel you can create. Add a few treats in the kennel to make it extra special. Keeping your kitten in a kennel helps prevent your kitten from escaping from the car when you come and go.