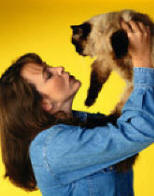 Getting Started - Reinforcing good behavior


Using brain not brawn

Positive reinforcement, withholding what your cat wants, using food lures to teach new vocabularly, ignoring behaviors you don't want to continue - all require you and your kitten use your brains.

Learning to creatively solve puzzles without threat or fear leads to long lasting knowledge. Besides that, you and your kitten now have so much more potential for love, joy, and satisfaction in your relationship!

Before you respond to your kitten, ask yourself this question, "Do I want this behavior to increase or decrease?" Always praise and give occasional treats to encourage the behaviors you want. After all, aren't you motivated by praise and a paycheck?

Think to yourself, "How can I make this good behavior in my kitten's best interest?" How can I show my kitten how he/she gets what he/she wants by doing what I want?

Your kitten is learning rapidly how to thrive not just survive in a human household. Positive reinforcement and reward-based training leads to a happy, confident, friendly, loving adult cat personality.