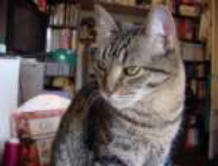 Getting Started - Nocturnal activity ,

Night-time crazies

Cats are nocturnal. It's normal for a cat to sleep all day and party all night. Just as you begin to relax at the end of a long day, your kitten is revving up for a wild and crazy night of fun.

This is a great time to wad up pieces of paper and toss them on the floor for your kitten to chase, fetch, or use for a rousing game of paper wad hockey.

Do NOT try to train your kitten or even pet your kitten during these night-time crazies. Your kitten's brain is somewhere else. You may be bitten or scratched for being in the wrong place a the wrong time.

Instead, redirect the play to toys or ignore the kitten altogether until the steam stops coming out of the ears.