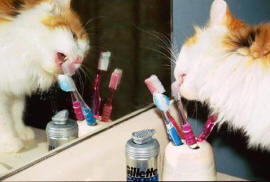 Getting Started - Prevention

An ounce of prevention…

A common mistake people make with new kittens is allowing bad habits to form.

Instruct your kitten by praising what's right and interrupting what's wrong. Provide constant supervision indoors until ALL house rules are learned. Keep your kitten in a small kitten-proof room when you can't supervise.

Provide for your kitten's basic feline needs like scratching and stretching, prey play, companionship, exploration, and affection. Gently teach and guide behaviors that help your kitten learn your house rules.
Prevent your kitten from scratching furniture by covering it with saran wrap or foil when you are not watching.

Shape your ideal kitten personality by encouraging confident, relaxed, friendly behaviors. Teach your kitten by reinforcing all desirable behaviors with extra loving attention, affection, and treats.