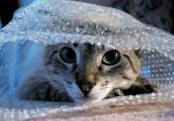 Getting Started - Teaching house rules

Caught in the act!

If the kitten is "caught in the act" of being on the kitchen table, try this strategy: See if you can make the table the problem! Creep silently underneath the table and pound up on the bottom of it with your fist.

Another strategy to try is making the table rock back and forth. This interrupts the fun and makes the kitten suspicious of the noisy or rocking table. CAUTION: Your goal is to startle only - not create fear or panic!

If your kitten jumps off the table - stops any unwanted behavior - crouch low and softly praise and call the kitten to you and provide extra loving attention. Be the good guy who's there to protect your kitten. It's helpful if you keep treats and toys in your pocket for these teachable moments. It's hard for a kitten to resist chasing a string.

Late Socialization: 9 to 16 weeks old[1]
· Vigorous exploration of the environment and climbing.

[1] AAFP. (2004). Feline Behavior Guidelines.