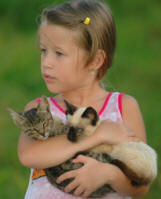 Getting Started - Ongoing Socialization


Two common mistakes people make with young kittens are: 1) sheltering them from new experiences at the time in their lives when they are most adaptable and teachable,
and, 2) not protecting them from painful and fearful experiences when they are most impressionable.

Young kittens benefit from positive experiences and you benefit from shaping the kitten's personality to become the adult cat of your dreams.

The goal is to raise an adult cat that is friendly, relaxed, flexible not fearful or aggressive. Provide your kitten with an enriched upbringing and you are helping your future adult cat become more relaxed in new situations.

By protecting your kitten from bad experiences, you raise an adult cat that will enjoy life with wild abandon, delightful curiosity and a fondness for people. Whenever you introduce something new, remember, bribery is allowed!