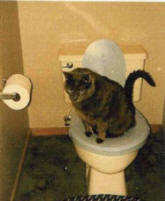 Getting Started - Litterbox training
Establish the kitty toilet


One of the most common errors people make with a new kitten is allowing free roam of the house before the kitten is litterbox trained.

T
he best way to introduce your kitten to the litterbox is to simply put your kitten in it frequently when your kitten is relaxed. Use one finger to make a scratching motion in the litter.

Start with a fine-grained, unscented litter that is soft on the paws. Confine your kitten to a small room with the litterbox for the first week or so. CAUTION: Make sure the litterbox sides are not too high for the kitten.

Provide food, water, bedding, safe toys, and a scratching post in the small room, away from the litterbox.


Kitten Development: Early Socialization 3 to 8 weeks old
· Develops control of the bladder and bowels - begins to use a litterbox.

· Traumatic experiences can become lasting fears or phobias
---
For your education...

Topics
Litterbox Training Q&A

Contact a Veterinary Behavior Technician

Call: 1- 800-372-3706 Ext. 87

BehaviorSupport@AnimalBehavior.Net
"Helping you raise a happy, well-behaved cat and fabulous feline friend for life."
Copyright © 2001-2008 All Rights Reserved Dr. Rolan and Susan Tripp | Animal Behavior Network & Affiliates


Print Friendly Version