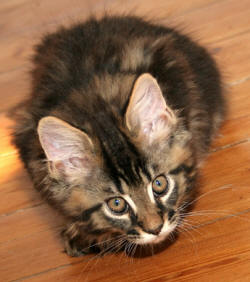 What is it?

Some cats stop using the litterbox. Instead, they choose their own area in a house. Cats who stop using the litterbox have no clue that people care whether or not they use the box. As far as cats are concerned, just as they picked the litterbox, they are free to choose a more desirable location inside the home.

Some times the cat is aversive to the box due to a bad experience or because it doesn't smell or feel right. The cat may not be comfortable with the location of the litterbox. There may be other factors especially in homes with multiple cats.
Cats prefer clumping litter and a clean litterbox. How would you like to use scratchy paper and a toilet that had not been flushed?
Finally, a change in toileting habits can be the first sign of a physical illness. Have the cat checked thoroughly by a veterinarian and with diagnostic tests to rule out ill health or discomfort.
Why is it?
Consider people who are remodeling their bathrooms. Some people want the most inexpensive toilet; others are more discriminating about color, style and the location of the new toiled. People can also be quite discriminating when it comes to selecting the right type of toilet paper - two ply, patterned, extra soft, etc., since that is what they touch.
Fast forward to the most discriminating of domestic animals - the cat. Since cats bury their waste, they need to get down and dirty with both the box and the litter so they prefer a clean, fresh spot.


Newsflash
: Your cat might think you are a nice person, but clueless about kitty potty picking. If your cat is not using the litterbox, then you need to discover - from the cat's point of view - if the problem is with the litterbox type, the litter type, the litterbox location, the number of litterboxes available, or the the number one reason why cats stop using the box - it is not flushed after every use. Just like humans, cats prefer a clean bathroom and a clean toilet.