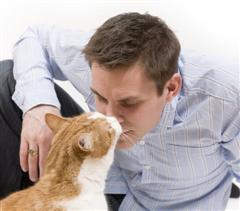 Cats choose people
Cats tend to wander into our lives. Some say cats choose their people and not the other way around. People with big hearts take in strays, even cats that no one else wants.
Some strays turns out to be the best cats imaginable. In other cases, stray cats or kittens with rocky beginnings arrive with behavior problems or develop these problems down the road.
Why enroll in a Course?
How many times have you heard someone say, "If I wasn't in a class, I just wouldn't make the time for ...." It could be an exercise or art class or piano lesson. Being in a course helps us take care of what is important in our lives. The repetition of being in class, helps us to gain long term learning. Lessons stick better in our minds and new habits are easier to implement when we have reinforcement.
The Positive Cat Parenting course keeps you and your cat learning and enriches your relationship now and with future cats.
The Course guides you in shaping your cat's personality to be the best household family member possible. If you need help, a veterinary behavior technician is there by email or phone to answer your questions.
Sadly, when cats go off track and people are not sure how to respond, cats become neglected, abused, and surrendered to the outdoors or to shelters instead of living a happy, healthy life indoors as happy, well-behaved members of a human family.
The purpose of being in a Course it to provide review of key concepts that keep both you and your cat learning for a lifetime!