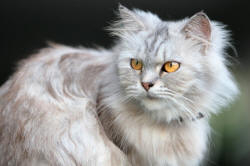 What is it?
Some cats respond to medical, emotional or physical stress by changing their elimination habits. Cats may choose a new toilet area in the home outside of the litterbox.
Why does this happen?

Perhaps, choosing a new toilet is a coping mechanism when a is under cat stress. Perhaps the cat is communicating social rank, sexual availability, territory or is simply making a personal statement on the condition of their toilet. Cats like cleanliness.

One theory suggests that cats use urine and feces to mark or signal cat traffic. Another theory is that a cat's urine mark enhances his confidence like an American raising the American flag.

Outside the box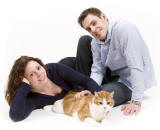 When cats stop using their litter box, there may be a medical cause. Rule medical causes out with a complete medical workup. Blood work can rule out diabetes, kidney or adrenal disease, uterine infection and thyroid dysfunction. A urine analysis and x-rays can rule out diseases of the bladder such as infection, stones, crystals, tumors or abdominal masses pressing on the bladder resulting in decreased control.

A fecal analysis helps rule out colitis, maldigestion, malabsorption, diarrhea or constipation. The complete physical exam helps rule out physical problems like neurological tumor, trauma, infection, inflammation and age-related senility.