Getting Started - Suckling behaviors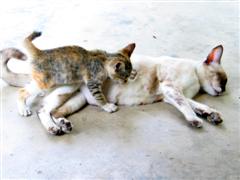 Kitten suckling

Nutritional suckling is normal kitten behavior. Suckling continues until kittens are weaned from their mother's milk. After weaning, some kittens continue suckling to relax. Think of this as a baby with a pacifier. Some kittens continue this behavior longer than others just like some children continue sucking a thumb longer than others. Some stop the suckling but continue the kneading and purring.

Kittens may knead and purr with suckling just as they did when feeding from mom cat. Some kittens cope with anxiety by suckling. If kittens are very stressed, suckling may become an obsessive compulsive disorder.
Obsessive compulsive disorders (OCD) are behaviors that are repeated over and over, also called, repetitive behaviors. OCD behaviors are hard to interrupt. Sometimes, suckling results in self-inflicted wounds. Kittens may lick the body until raw or pulling out fur. Ignore this and all other inappropriate behaviors.
In these cases, a veterinary exam and consultation with a veterinary behaviorist is in order to see if medications and behavior therapy are indicated.